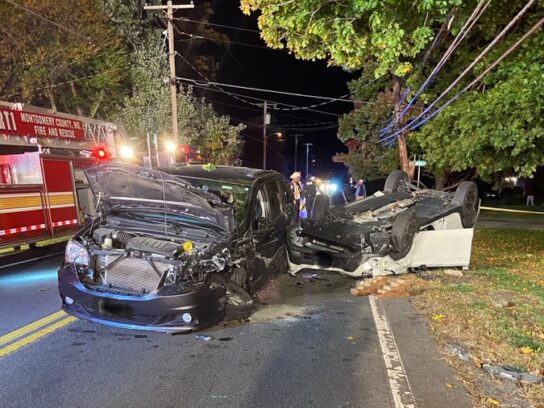 A two-vehicle collision in Damascus sent eight people to the hospital and took down a utility pole Sunday night.
The accident, which took place on Ridge Road and Highview Avenue around 8:30 p.m, resulted in one life-threatening injury, one moderate injury and six non life-threatening injuries, according to Montgomery County Fire and Rescue Services (MCFRS) Chief Spokesperson Pete Piringer. Six of the eight adult and young adult occupants injured were taken to a local trauma center. 
According to Piringer, who tweeted pictures and details of the scene, one person was entrapped beneath one of the vehicles, which had overturned in the crash. MCFRS freed the pinned occupant from the flipped vehicle and sent them to the hospital shortly after arrival, Piringer tweeted.
MCFRS closed Ridge Road to High Corner Street to clear the damage, but the road will remain closed for utility repairs on the street after a pole was knocked over.
(~830p) Ridge Road & Highview Avenue, Damascus, 2 vehicle collision with entrapment, utility damaged, @mcfrs evaluating 8 patients, @mcfrs M713, RS717, PE713, A925, A734, A735, PE734, PE735, CCE12, E925, M729, CCM19, EMS703, EMS702, SA700, BC705, C713, C717 on scene pic.twitter.com/YcRwJOHbAC

— Pete Piringer (@mcfrsPIO) October 17, 2022
Update – Ridge Rd, Damascus, collision, rollover w/ entrapment (pinned under vehicle), patient extricated @MCFRS_EMIHS transported TOTAL 8 adult/young adult patients, including 1 Pri1 trauma, 1 Pri2 trauma & 6 Pri3 NLT; utility pole damaged, some lanes blocked https://t.co/zP1eIYe5xm pic.twitter.com/fxYsCyODbi

— Pete Piringer (@mcfrsPIO) October 17, 2022