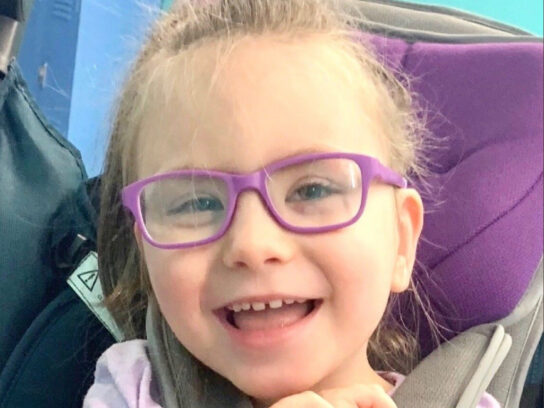 Hannah, a 6-year-old Damascus girl with a neurological condition, will soon have the backyard swimming pools she's been wanting.
Make-A-Wish Mid Atlantic's spring plans to build a backyard swimming pool for Hannah were held up because her family was having issues obtaining much needed property records. However, Montgomery County Department of Permitting Services (DPS) offered help so the project could begin sooner and Hannah would be closer to making a splash.
According to a statement from DPS, because of Hannah's neurological condition, the pool is one of the places she finds the most comfort.
The Montgomery County Department of Permitting Services helps 'Make-A-Wish' request come true for a six-year-old Damascus resident. ➡ https://t.co/pPTMUuBNOi. pic.twitter.com/RULj0abGQJ

— Montgomery County MD (@MontgomeryCoMD) June 25, 2020
"When Hannah is in the water, it is one of the only times she does not need physical assistance. The water allows her to move around freely while she wears a floatation device and it helps relieve her joint and muscle pain," DPS stated.
In fall 2019, Hannah's family made their request of having a pool built in their backyard to Make-A-Wish Mid Atlantic. Just last year, the nonprofit granted over 375 wishes throughout Maryland, Northern Virginia and Washington D.C., according to DPS. Make-A-Wish decided to fulfill Hannah's wish because they knew "a swimming pool was going to help improve her quality of life."
Make-A-Wish began gathering the necessary records and paperwork to meet their goal of having the pool built in the spring. An issue arose, however, when they encountered issues accessing some of the family's property records. Knowing they might be able to help, Make-A-Wish's Claire Kruse contacted DPS.
Rebecca Jones, a Permit Technician, and her manager, Gail Lucas, worked to "locate the missing records and coordinate the final aspects of the permit request process." After being issued a permit to build the pool on June 5, Make-A-Wish has began construction. Hannah's pool is expected to be finished in the next few weeks.
Hannah's mother Kristy is grateful for everyone's efforts in helping to make her daughter's wish come true.
"It is such a complicated process, and everybody was so kind and helpful. Hannah really loves the water and we are so thankful to be able to get her swimming this summer," Kristy said.
DPS Director, Mitra Pedoeem, said that her department is "constantly seeking ways to make the permit process easier for projects of all types" and desires DPS to "help in every possible way" when special circumstances arise.
"I am excited that our team was able to come up with a creative solution to serve this family," Pedoeem said. "As DPS moves forward, my goal is to ensure that this is the type of customer service DPS is known for."