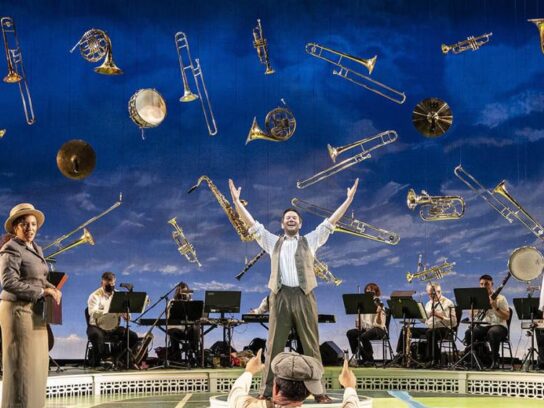 In 2016, while working as a carpenter at Olney Theatre Center, James Caverly pitched an idea to Artistic Director Jason Loewith: a production of 'The Music Man' with a deaf and hearing cast. Six years later, Caverly is starring as the show's main character.
The actor, who is deaf, has been featured in Only Murders in the Building and Chicago Med and is now a part of the cast for Music Man containing deaf, hard of hearing, and hearing actors. The entire production of Meredith Willson's 1957 musical is spoken and sung as well as signed in American Sign Language (ASL) representing a recent movement for increased deaf representation in media. Earlier this year, the movie 'CODA,' starring a cast featuring some deaf actors, won the Oscar for Best Picture.
Music Man is centered around Caverly's character, Harold Hill, a conman that tries to convince the townsfolk of River City to set up a marching band that he would lead. However, Harold isn't a musician and has no intention of sticking around. He plans to leave town after selling the instruments and uniforms and while the town falls for his scheme, the librarian and piano teacher Marian Paroo remains skeptical.
Will there still be trouble in River City? Will Harold get away with his plan?
The show is running until July 24 with tickets ranging from $42 to $85. To buy tickets for the show, click here.
Previous Post:
Star of 'Only Murders in the Building' to Appear in Olney Theatre Production