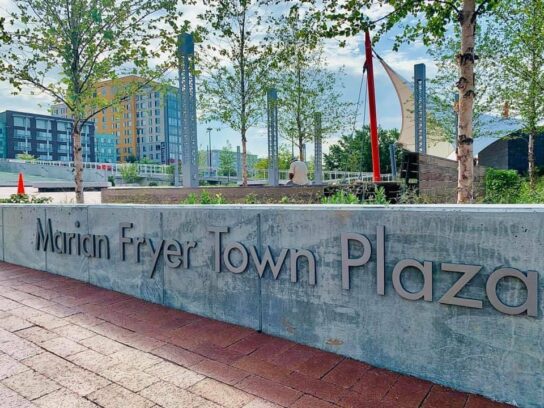 Montgomery County dedicates the Marian Fryer Town Plaza located in Downtown Wheaton Friday at 7 p.m. The dedication was originally scheduled for November 2020 but was cancelled due to COVID-19 concerns. County Executive Marc Elrich, County Council President Tom Hucker, and Councilmember Nancy Navarro will lead the dedication ceremonies.
The ceremonies will be followed by a concert from the Washington-area legendary blues and roots band "The Nighthawks." The concert kicks off the Wheaton "TGIF Summer Concert Series" and is expected to start at 7:30 p.m. The free concert series takes place on the second and fourth Fridays through September.
Marian Fryer was a longtime Wheaton resident and community activist who passed away in 2017 at age 79. The dedication ceremonies will include a plaque for Fryer and a ribbon cutting.
Fryer was a resident of Wheaton for more than 45 years, She worked as an administrative officer with several agencies of the Washington, D.C. and federal governments for more than 34 years. In 1996, she started her home-based business, Marian's Connections, a consignment boutique specializing in new and pre-owned clothing and accessories for women.
In 1996, she became active in the Wheaton community. She went on to become a member and chair of the Wheaton Urban District Advisory Committee, president of the Wheaton Citizens Coalition and a member of the Wheaton Redevelopment Advisory Committee. She was inducted into the Maryland Senior Citizens Hall of Fame for Community Service.
Councilmember Navarro said: "Marian Fryer served as a tireless advocate for her community, and as the unofficial Mayor of Wheaton she deserves this recognition. This community space will now be the first thing many will see when they visit Wheaton, and I am proud that it is Marian Fryer's name that will be greeting everyone. She was a champion for this redevelopment project and her invaluable advocacy will forever be implanted in Wheaton's civic memory and urban life."
The Marian Fryer Town Plaza is located at 2424 Reedie Drive near the entrance to the Wheaton Metro Station.