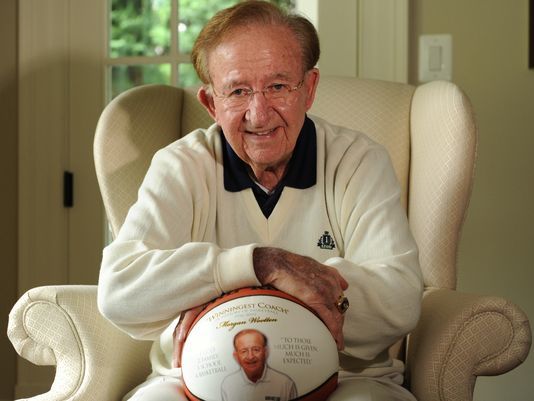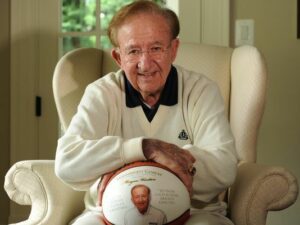 Morgan Wootten, the legendary former DeMatha high school basketball coach, died Tuesday evening at his home at the ago of 88. In a coaching career that spanned 46 years, Wootten won over 1200 games, 33 WCAC titles, 22 city titles and 5 national championships at the Hyattsville school. He coached a long list of great players including Adrian Dantley, James Brown and Danny Ferry.
Perhaps his signature moment as a coach – certainly the moment that put DeMatha and Wootten on the national stage – came on January 30, 1965 when DeMatha upset Power Memorial (N.Y.) High School led by Lew Alcindor (later Kareem Abdul-Jabbar) at sold out Cole Field House in College Park.
John Wooden, who coached UCLA to 10 national championships in a 12-year period said this about Wootten: "I know of no finer coach at any level – high school, college or pro. I stand in awe of him."
Beyond the wins, trophies and accolades, Wootten was a beloved family man, teacher and mentor.
Wootten was born in Durham, North Carolina. He grew up in Silver Spring attending Gonzaga College High School in Washington DC and Blair High School where he graduated in 1950. Wootten attended Montgomery College then transferred to the University of Maryland where he graduated with degrees in physical education and history. Wootten taught history at DeMatha and coached both basketball and football. His career at DeMatha spanned six decades. Wootten was inducted into the Basketball Hall of Fame in 2000.
Wootten is survived by his wife of 56 years, Kathy, five children and 15 grandchildren.
Morgan was asked in 1988 about his legacy. His response:

"I would like to be remembered as a good husband, a good father, a good teacher and a person who really cared about other people."

Mission accomplished Coach. pic.twitter.com/giqbC7NGDL

— DeMathaHighSchool (@DeMathaCatholic) January 22, 2020