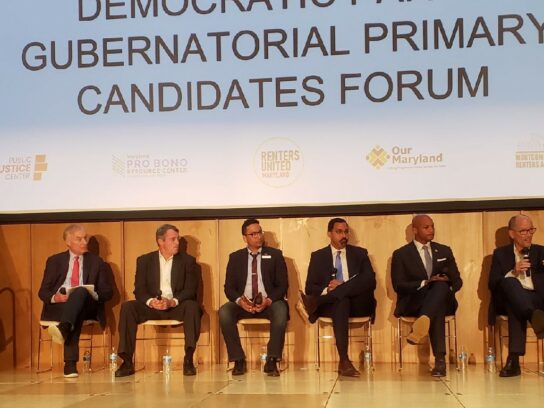 Six Democratic gubernatorial candidates generally agreed that Maryland should protect its renters and that if they were elected to replace Gov. Larry Hogan they would provide free legal representation and other assistance for renters.
Comptroller of Maryland Peter Franchot, former Maryland Attorney General Doug Gansler, former Obama Administration official Ashwani Jain, Rhodes Scholar and combat veteran Wes Moore, former Secretary of Education John King Jr. and former U.S. Secretary of Labor Tom Perez discussed the current state of housing and renting in Maryland during a two-hour debate presented by the Montgomery County Renters Alliance in partnership with Montgomery Community Media. It was held at the Silver Spring Civic Center Tuesday evening.
Former Prince George's Executive Rushern Baker did not attend due to his wife's recent death.
The candidates strongly criticized Hogan for what they said was the premature end to the state of emergency he had enacted during the pandemic. Therefore, they said, rental assistance and increased unemployment benefits were no longer available when the state still had federal dollars to use on these programs. "We all agree that housing should be a right for all," Perez said, adding, "We can end evictions. We have the funding. We just lack the leadership."
He criticized Hogan for being "totally hands off on this."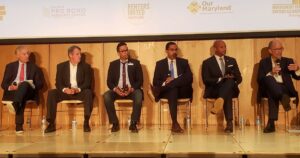 Maryland has $750 million that still needs to be spent on rental assistance soon or it will revert back to the federal government, Franchot said, adding, "This is a once in a lifetime opportunity." Montgomery County has distributed close to $30 million of the $59 million it was awarded in rent relief funds due to the pandemic.
Perez said that New York has distributed all its rental funding, and added that several other states have distributed most of their federal funds because the governor and local jurisdictions work together. He noted that one-third of Marylanders are renters.
Franchot called home ownership "the path to the middle class" and Gansler said, "We have to have affordable housing in all zip codes."
Moore noted that 96% of landlords go to court hearings with legal representation while only one percent of tenants do. "This is about fairness equity," he said. Moore also called on the state to think about both the immediate housing and financial crisis as well as how Maryland got into this position.
King called housing a human right and spoke of the need for stronger rights for tenants. If elected, he said he would increase the fee for a landlord to start the eviction process, noting that it is too easy for landlords to start evicting a tenant.
In Maryland, it cost about $15 for a landlord to file for eviction while it is $150 in many other states, according to several candidates at the forum.
King also said he would strive to make it easier to build multifamily homes, end redlining and create a state bank to create more affordable housing. "So many people grew up in neighborhoods that are now unaffordable for them," he said. "What we must remember, there but for the grace of God go all of us."
Jain said as governor he would create housing assistance, free public transportation and smart growth.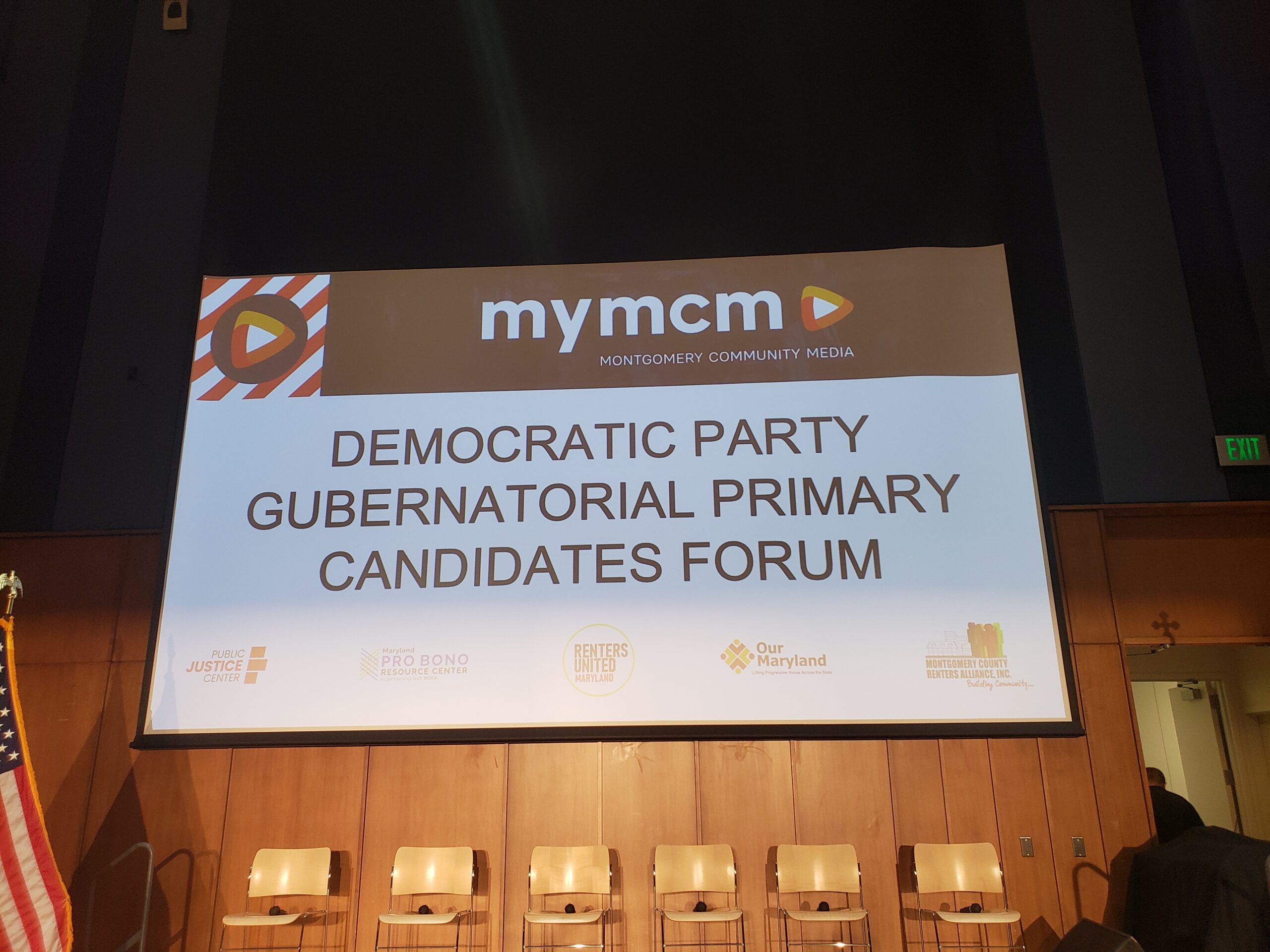 The candidates spoke in favor of rent stability, though to varying degrees. They also agreed on mandating just cause evictions, which would require landlords to provide a specific, codified reason for not renewing a lease.
While Gansler said there were plenty of houses and said, "We need to stop sprawl," other candidates called for the building of more affordable housing. Many of the candidates favored building affordable homes near public transportation, but Moore said it was important to invest in communities that already exist. The idea is not to move people to where the opportunities are, but rather to bring the opportunities to existing low-income communities, he said.
Perez estimated that to rent a two-room apartment in Maryland, a person must make almost $60,000 a year, which comes out to about $29 an hour. Therefore, he said, Maryland needs to grow good middle class jobs, which he suggested could be done in the wind-energy field.
Proud to be here tonight at #MDRentersForum to talk about my experience fighting for housing access and affordability and my vision for Maryland. Thankful to @RentersRights for hosting us. #MooreForMaryland pic.twitter.com/J0HHNPqzFY

— Wes Moore for Maryland Governor (@iamwesmoore) September 22, 2021
Thank you @RentersRights for bringing together this candidates forum in #SilverSpring @TomPerez @iamwesmoore @JohnBKing @JainForGov @DougGansler @peterfranchot pic.twitter.com/TYFR8zhzEv

— Jacob Newman (@NewmanJacob11) September 21, 2021
The first debate for Maryland's Democratic Primary for Governor is happening right now in Silver Spring. It's about renters issues. Watch online: https://t.co/9hDcx4VrS0 pic.twitter.com/SIHyk1tKvj

— David Moon (@DavidMoon2014) September 21, 2021