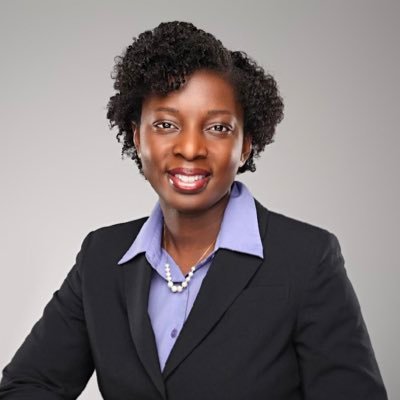 Attorney Bernice Mireku-North was chosen Tuesday night to become a state delegate in District 14 by the Montgomery County Democratic Party.
Mireku-North's name now will be submitted to Gov. Larry Hogan. If he signs off, she will be sworn in this month to replace Delegate Eric Luedtke, who resigned to work in Governor-Elect Wes Moore's inner circle.
During a lengthy meeting, 10 candidates spoke about themselves and answered questions. Besides Mireku-North, the candidates were Tom B. Smith, Paul Geller, Paul Schwartz, Doug Terry, Hafizur Rahman, Raj Rajendran, Jodi Finklestein, Nathan Aaron Feinberg and Matthew Post.
On the second ballot, Mireku-North received 14 votes; Finklestein, executive director for Montgomery County Commission for Women, had six; and Post, a former Montgomery County Public Schools Student Member of the Board of Education, got one.
At one point during the meeting that was held both in person and virtually, two men Zoom bombed and shouted, uttered hate words and posted pornographic pictures. The virtual part of the meeting quickly was cut off but the in-person interviews continued until Mireku-North was declared the top vote getter.
Mireku-North has her own law firm, lives in Colesville and ran unsuccessfully in the Democratic primary for State's Attorney against incumbent John McCarthy.
"I grew up in Montgomery County," she told MyMCM. "I worked together with lots of different communities. I think that really stood out," she said when asked why she believes she was chosen by members of the Democratic committee.
Mireku-North says she understands that some people were frustrated that a special election was not held for Luedtke's seat but noted that the rules call for a replacement to be chosen this way.
"I think the district did all they could with the limitations them have. I think they did all they could to make it a fair process," she said. "We are understanding that our democracy can be bigger than that."
If Hogan approves her nomination, Mireku-North said she would like to utilize her legal background and push for expungement of certain criminal records and decriminalization of simple possession of criminal paraphernalia.
She also said she would focus on economic development and improvement of transportation in the east county area.
If approved, she would join Senator Craig Zucker, Delegate Anne Kaiser and Delegate Pam Queen in representing District 14.
Calls to the Montgomery County Republican Central Committee were not returned.
Congratulations to @MirekuNorth on being selected as our next Maryland State Delegate representing District 14. She joins a great team and I know will be a strong advocate for all residents. @SenatorZucker @DelegateKaiser @DelPamQueen pic.twitter.com/DlOFJJPHo9

— Will Jawando (@willjawando) January 4, 2023
.@MirekuNorth will join the D/14 team with Sen Zucker & Dels Kaiser and Queen after a 2nd ballot win among @mcdcc members after a more transparent process. Welcome & congrats, Bernice!

— Cheryl C. Kagan (@CherylKagan) January 4, 2023
Congratulations to Bernice Mireku-North @MirekuNorth on being selected to become the new District 14 Delegate. I know you will continue the excellent work done by @EricLuedtke on behalf of Montgomery County.

— County Exec Marc Elrich (@MontCoExec) January 4, 2023
Congrats to my friend Bernice @MirekuNorth who will be recommended to Governor Hogan to be appointed as the next Delegate from District 14!

— Scott Goldberg | Be Kind (@GoldberginMD) January 4, 2023