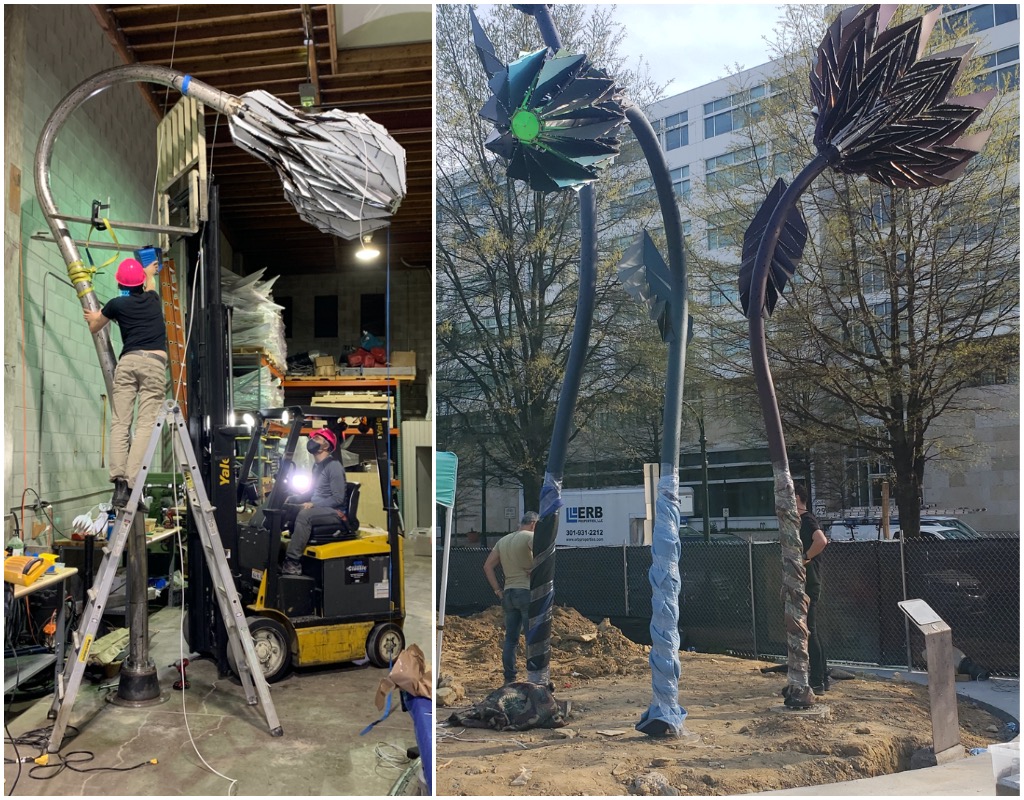 Downtown Silver Spring's New Art Installation Features Two-Story High Flowers
Workers are installing 25-foot tall flowers as part of downtown Silver Spring's $10 million redevelopment project. The installation is located at the busy intersection of Georgia Avenue and Colesville Road in the parking lot for Panera Bread and Red Lobster.
The Blumen Lumen art installation contains multiple 18 to 25-foot folded stainless-steel flowers that respond to the weather, opening and closing as the sun rises and sets. At night, the colorful display can be influenced by people's voices.
Peterson Companies and Foulger-Pratt, who are partnering to give the downtown area a refresh, chose Washington, D.C. -based Jean Efron Art Consultants to find a great display.
"We identified more than 100 artists and selected FoldHaus because of the captivating, engaging and larger-than-life art they proposed," explained Efron in a news release. "This is a high-traffic location in an arts community so we wanted something that would not only provide a huge 'wow' factor but also create a destination." FoldHaus is based in the San Francisco Bay area and is an art collective.
"FoldHaus builds experiences that are both poetic and robotic. Its art balances the tension between technology and nature, using engineering and design to bring origami to life," stated Paul Weinschenk, president of retail with Peterson Companies. "This art represents the best integration of art, design, culture, nature, engineering and technology and provides a great learning lab for young students on how science, engineering and technology can come together with design to create kinetic art. This interactive and engaging display is different at all times throughout the day and reacts to the conditions around it. It's uplifting—something that we think everyone can use right now."
The exhibit is expected to be unveiled at 7:30 p.m. on April 21. Adventist Health frontline workers will flip on the switch during its debut. Between then and the end of May, viewers can donate to Adventist Health Foundation to have their message of gratitude printed on a flower graphic that will be displayed at Downtown Silver Spring.