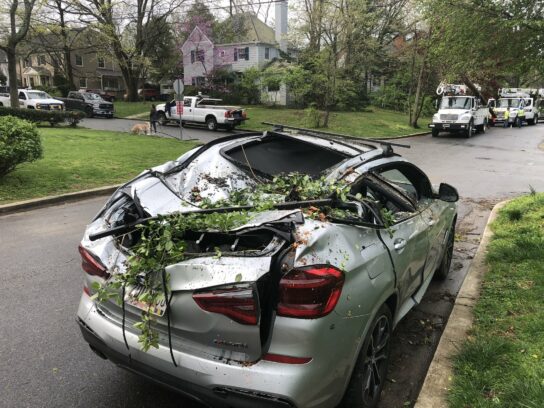 An early morning storm swept through a neighborhood in Bethesda leaving downed trees, cars damaged, and power outages on Wednesday.
Clean-up crews responded to the area of Newport Road and Earlston Drive and were met with a significant amount of damage. Some parked cars and power lines were damaged by the fallen trees. Neighbors compared what they heard around 3:00 a.m. on Wednesday to a tornado touchdown that lasted about ten seconds.
Fortunately there were no injuries reported, and there was no major damage to any homes. Officials say crews are working to restore power in that area.
Overnight storm damage in Bethesda neighborhood and area of Newport Road and Earlston Drive https://t.co/QDCvUgQuoB

— Pete Piringer (@mcfrsPIO) April 8, 2020
Overnight storm (4/8) damage reeked havoc in Bethesda neighborhood (along Newport Rd) damaging a couple of cars, fortunately no injuries & no major damage to any homes, power out in area pic.twitter.com/3ubScA1SEI

— Pete Piringer (@mcfrsPIO) April 8, 2020
Newport Rd, Bethesda – neighbors describe it as though a tornado touchdown in area Newport Rd & Earlston Dr for about 10 seconds early this morning (4/8) around 3 AM pic.twitter.com/BpjTJHL95Y

— Pete Piringer (@mcfrsPIO) April 8, 2020