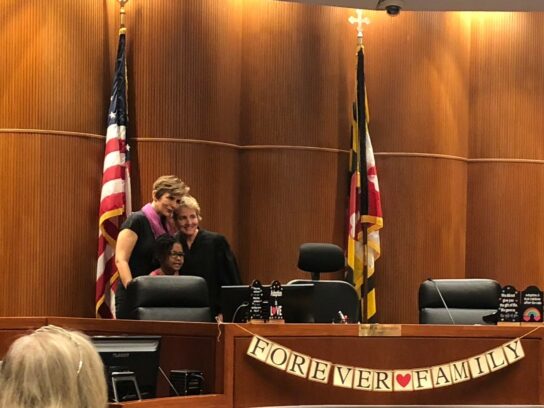 Judges confirmed the adoptions of eight children today in a ceremony at the Montgomery County Circuit Court in Rockville. The event was a celebration of National Adoption Month. 
Children and their families took their turns behind the judges' desk, where the judge confirmed their petitions for adoption and name changes. 
Associate Judge Cynthia Callahan said the average age of children adopted in the county is five-and-a-half. This year, 26 other adoptions were also confirmed in the county.
Catherine Leggett, the former first lady of Montgomery County, was the keynote speaker for the event. She had a message to offer the newly adopted children. 
"You have a journey that is bright," Leggett said. "You have new parents in your life, you have siblings there to guide you, you have social services to support you… and life from here on will be good, filled with love."
Leggett emphasized the right all children have to be loved. 
"I am honored to be present in this courtroom to witness the opening of hearts of the adoptive families before me here today and believe that all, all children deserve a safe place, a loving home, and to be hugged," she said. 
Béatrice Pouligny adopted Aniya. Her two older brothers were also at the ceremony and were adopted by another family. Pouligny said the boys often spend time at her house, and all three siblings keep in touch. Pouligny said she knows how important adoption is for children who have experienced trauma.
"I can see both for her and her brothers, who are with us a lot, what a difference it makes coming from a very, extremely traumatic first years of their lives to being loved and having the safety and certainty," Pouligny said. 
"They blossom."
The ceremony was followed by a dinner for the children and their families.