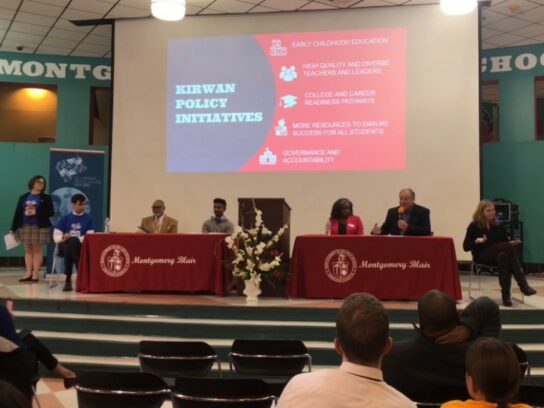 The Coalition for the Blueprint for Maryland's Future held a School Funding and Policy Community Forum Wednesday at Montgomery Blair High School in Silver Spring. 
The forum was a space to discuss the Kirwan Commission's education policy recommendations and what they mean for Montgomery County Public Schools (MCPS). The Kirwan Commission, created in 2016, is made up of 25 members who are trying to revamp Maryland's public school funding policies to better enable student success. The commission will present its recommendations to the Maryland General Assembly in December.  
The Blueprint for Maryland's Future Forum is starting at Blair High School in Silver Spring. Local leaders are going to discuss the Kirwan Commission's education policy recommendations and what they mean for MCPS. @mymcmedia pic.twitter.com/rADufBekc3

— Maryam Shahzad (@maryam_mcm) November 6, 2019
The commission focuses on five major policy areas: early childhood education, high quality and diverse teachers and leaders, college and career readiness pathways, more resources to ensure success for all students, and governance/oversight and accountability. 
Dr. Brit Kirwan, chairman of the commission, spoke at the forum. One issue in MCPS he highlighted was a shortage of teachers.
— Maryam Shahzad (@maryam_mcm) November 6, 2019
"Believe me, we do have good schools, and good teachers in Maryland. Take Blair as an example. The problem is, we don't have enough of them," he said. 
Kirwan emphasized the importance of investing in education. 
"People say, 'well, can we afford it?' I say, 'can we afford not to do it?'" he said. 
The main panel featured Montgomery County Executive Marc Elrich, County Council of Parent-Teacher Associations Vice President Tracie Potts, Richard Montgomery High School President Pranav Tadikonda, and President and CEO of McFarland and Associates George McFarland. 
Elrich said one of his promises during his campaign for county executive was to invest in early childhood education, which he said is crucial for long-term student success.
"All the data says if kids come to school unprepared and they hit kindergarten at 5-years-old, and if they're really two years behind… they tend not to catch up," Elrich said.
Tadikonda said from a student's perspective, mental health is the most important issue to tackle in MCPS. He said when he noticed his close friend acting distant after facing problems at home, he didn't know who to tell. 
"When I noticed this, I didn't know myself who to go to… my school didn't really pronounce the opportunity to speak to an elder or some sort of counselor or any adult in the building," Tadikonda said. "And that really caused a setback for him because he was not performing well in school because of it."
Maryland Gov. Larry Hogan is outspoken about his opposition to the Kirwan Commission. He says the state and local tax increases it recommends are too high, with little improvement in student success. 
Hogan said a lack of accountability is the problem with Maryland schools, not funding.
"And we'll keep fighting to root out corruption and mismanagement in our school systems," he said in a Facebook post about the commission on Oct. 1.