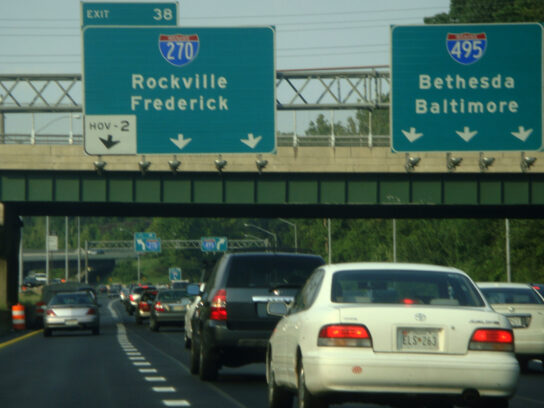 Wednesday's vote by the National Capital Region Transportation Planning Board to remove the state's proposed I-270, I-495 express toll lanes project from its air quality analysis dealt a serious blow to the future of the project.
"In order to meet federal requirements and advance to the construction phase, regional projects must be included in the long-range plan" to show that the projects meet federal air quality standards and also have proper financing in place, explained TPB spokesperson Steve Kania.
That is more than fine with Montgomery County Executive Marc Elrich, who was the driving force behind the motion to remove the project from the environmental analysis. He called the board's vote "the culmination of people who are tired of every solution" resulting in the building of additional roads. Instead, he said, he favors mass transportation options and creation of reversible lanes so that more lanes will be available in one direction during rush hours, but only during rush hour.
"This is not a political thing. It wasn't opposition to him, because he's a Republican," Elrich said, referring to Gov. Larry Hogan, who is a strong backer of Maryland Department of Transportation's P-3 Partnership project. The state's plans include building a new American Legion Bridge and two high occupancy toll lanes in each direction from the George Washington Memorial Parkway in Virginia to east Maryland 187 on I-495. On I-270, from I-495 north of MD 370 and on the I-270 eastern spur from 187 to I-270, there would be high occupancy toll lane added in each direction. No work is planned on I-495 east of the I-270 spur.
Elrich told MyMCM that the county has consistently fought against road widening for more than 10 years.
He called the state's plan "way overkill" and said traffic congestion could be relieved with less money and "far less intrusion." Elrich urged Hogan to work with Montgomery County officials to come up with an improved plan together and then "declare victory."
But it doesn't appear that the state has any intention of changing its plans. In a statement from the Maryland Department of Transportation, Erin Henson, director of public affairs, wrote "Maryland is not prepared to give up on any of that, and will continue to work toward solutions that will provide congestion relief in the National Capital Region for today and for generations to come."
Henson wrote, "Yesterday's decision is a vote against easing congestion across the American Legion Bridge, one of the most significant bridges in the nation and largest traffic bottlenecks in the nation, jeopardizing a bi-partisan agreement across the Potomac. It's a vote against providing reliable bus service across the American Legion Bridge."
Her statement also noted, "It's a vote against transit funding from toll revenue for local jurisdictions. It's a vote against connecting bike and pedestrian networks across the American Legion Bridge from Maryland and Virginia. It's a vote against transportation choices. It's a vote against Maryland's economic recovery, infrastructure investment and the creation of thousands of jobs. It's a vote against private investment that would unlock state and federal funding in the Transportation Trust Fund for projects across the state."
Related Post
Transportation Board Will Not Conduct Environmental Analysis of 270, 495 Road Widening Project