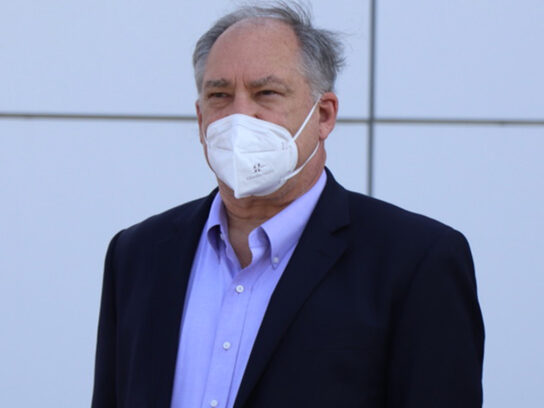 Montgomery County Executive Marc Elrich proposed a bill that could make the county the first in the nation to set a Building Energy Performance Standards (BEPS) policy that enforces a minimum energy use threshold for existing buildings.
Bill 16-21 aims to expand the number of buildings covered by the county's benchmarking law, according to a Montgomery County press release. Benchmarking is the process of tracking a building's annual energy use and comparing it to past energy use as well as on a nationwide level, according to the Montgomery County Department of Environmental Protection (MCDEP) website.
The proposed legislation supports the county's climate goals and will be a foundational policy for the County's Climate Action Plan.
The buildings added will be county-owned, commercial and multifamily buildings of 25 thousand square feet or more. The BEPS legislation would require building owners to meet targets for improving energy performance and offer them technical assistance along with flexibility.
In 2014, the county established the first benchmarking law for county-owned commercial buildings that were 5o thousand square feet or more to report building and energy performance each year to the county's DEP.
The county currently has more than five thousand commercial and multifamily properties that cover more than 288 million square feet of rentable building areas. Commercial buildings have accounted for 26% of community-wide greenhouse gas (GHG) emissions in the county.
"Energy use in the building sector is the largest contributor to greenhouse gas emissions in Montgomery County, representing almost 50% of total community-wide emissions," said County Executive Elrich. "As highlighted in the recently released Climate Action Plan, BEPS is one of the most powerful policy tools available to drive energy improvements and emission reductions in existing buildings. If we're serious about tackling the County's Climate Emergency, then BEPS is a necessary step to achieving our goals of zero GHG emissions by 2035."
I support new legislation (Bill 16-21) expanding the # of buildings covered by @MontgomeryCoMD's Benchmarking Law & requiring the use of less energy. The @MoCoCouncilMD will hold a public hearing tomorrow on this innovative bill.
Details ➡ https://t.co/RT6mbxgU9V. @MyGreenMC pic.twitter.com/eVq9AFatT2

— County Exec Marc Elrich (@MontCoExec) July 19, 2021
On Tuesday, County Department of Environmental Protection Director Adam Ortiz testified on Elrich's behalf at a County Council public hearing.
"This is thoughtful legislation drafted after years of consultation with building owners and efficiency experts," Ortiz said. "With advances in technology and smart policies, BEPS is a critical step to meeting the urgency of the climate crisis."
The bill would be one of the most effective ways for the county to reduce energy demand and carbon pollution as climate change goals are still being reached. The Climate Action Plan, which Elrich revealed on June 23, will guide the county in reducing greenhouse gas emissions by 80% by 2027 and 100% by 2035 in comparison to high levels reported in 2005.
Details of the climate plan can be found on the MCDEP website.