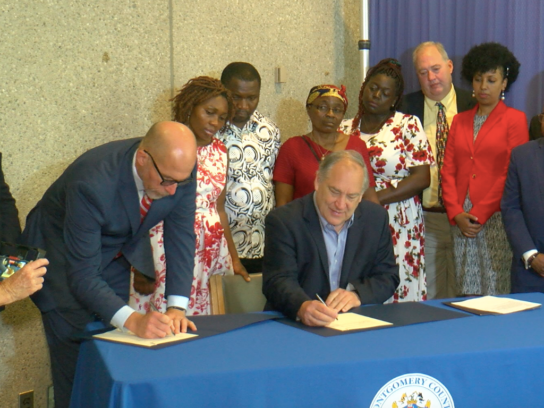 About eight months after a two-year-old boy fell from an apartment window and died in Takoma Park, a bill mandating stronger window guard requirements has been signed into law.
Ezechiel Nguemezi died in October 2020 after falling from a third-floor apartment building window. Montgomery County Council President Tom Hucker spearheaded Bill 51-20, which requires landlords to install window guards in rental units with children ages 10 and under, or if a tenant requests the installation in writing. The council unanimously passed Ezechiel's Law in April. It goes into effect January 2022.
On Tuesday, County Executive Marc Elrich and Hucker held a ceremony to sign the bill. Ezechiel's family also attended.
Ezechiel would have turned three this past weekend, his aunt, who read a statement on his mother's (Alvine Nguemezi) behalf, said.
"I guess that every mother thinks her child is special, but Ezechiel truly was special," she said. "His smile, the love he gave me, his grandmother and other members of our family was truly special."
"I think of him everyday and wonder why this happened. I don't want to see other parents go through what I have gone through since October 11, 2020. That is why I am so pleased that the council passed Ezechiel's Law."
Hucker said no parent should have to go through the trauma the Nguemezi family has suffered.
"None of us can imagine the pain that you've experienced," he told Alvine and her family.
"I hope it provides a tiny bit of comfort and resolution knowing that thanks to Ezechiel's Law, no parent in Montgomery County should ever have to worry about a child falling from a window again," he said.
County Council President Hucker and CE Elrich are getting ready to sign Ezechiel's Law, a window guards bill that was introduced last year after 2-year-old Ezechiel Nguemezi fell from an apartment window and died in Takoma Park.

Ezechiel's family is also here. @mymcmedia pic.twitter.com/X0wTpJKmoP

— Maryam Shahzad (@maryam_mcm) June 8, 2021
Ezechiel's mother, Alvine Nguemezi, is here and her sister is reading a statement on her behalf. She said Ezechiel would have turned 3 years old this past weekend.

"I don't want to see other parents go through what I have gone through." @mymcmedia pic.twitter.com/O4Mr8TGi5t

— Maryam Shahzad (@maryam_mcm) June 8, 2021