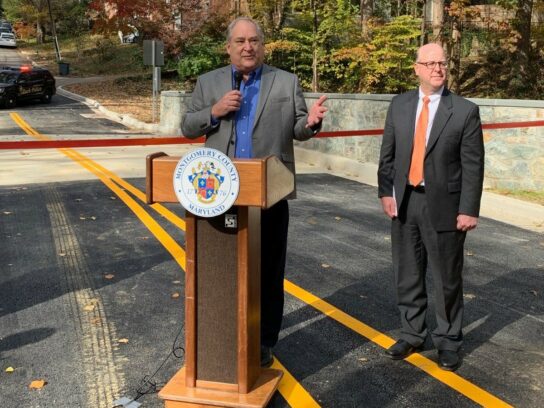 Montgomery County Executive Marc Elrich, other officials and Silver Spring residents unveiled the new Park Valley Road Bridge over Sligo Creek in Silver Spring. The original bridge was built in 1931. 
(PHOTOS) County Executive @Marc_Elrich joined Silver Spring community members and federal, state and local officials to dedicate the new Park Valley Road Bridge over Sligo Creek in Silver Spring today. Read the news release: https://t.co/ov6WkUb3YF @MCDOTNow pic.twitter.com/8jsFs1GwmR

— Montgomery County MD (@MontgomeryCoMD) November 15, 2019
According to a press release, the bridge will improve pedestrian and bicycle safety and give easier access to the hiker/biker trail. 
The new bridge, a project managed by the Montgomery County Department of Transportation, is 34 feet long with a sidewalk on the south side. 
The project is a part of the county's Vision Zero initiative, which aims to minimize injuries and deaths in traffic collisions. 
Aside from the new Park Valley Road Bridge, the project also includes a new pedestrian bridge over Sligo Creek, a trail that connects the new pedestrian bridge to the already existing Sligo Creek Trail, a pedestrian path along that trail, and a revamped intersection with a new crosswalk and pedestrian/bicyclist median. 
The project cost $4.85 million, made up of $3.5 million in federal funds and $1.3 million in local funds.
HISTORIC MOMENT: This bridge was built in 1931 – today @MontgomeryCoMD officials celebrate the newly improved bridge on park valley road in Silver Spring. @Marc_Elrich @WDVMTV pic.twitter.com/1pUvZYjBuf

— Shennekia Grimshaw WDVM (@Shennekia) November 15, 2019