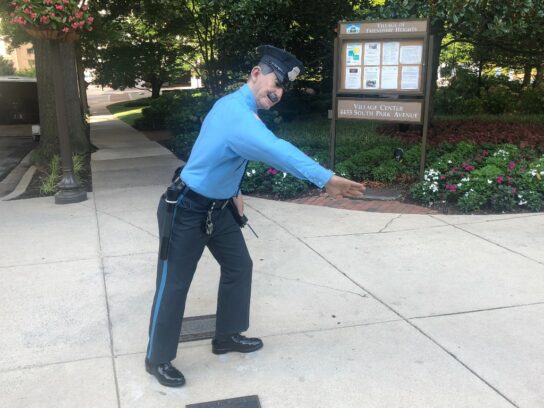 He's back. The very real-looking sculpture of an officer that greets people as they pass the intersection of South Park Ave. and the Hills Plaza in Friendship Heights. has returned after two and half month absence.
The sculpture suffered extensive damage after being vandalized in January. It was removed April 8 and sent to the studio in New Jersey where it was created to be restored.  June 25 it was reinstalled in its familiar spot. The vandals have not been identified or caught.
The sculpture, erected in 2000, depicts and honors longtime Friendship Heights resident Colonel James S. McAuliffe, Sr who served as a police officer for 55 years and was Montgomery County's Chief of Police for 16 years. It is called "Oh, it's you, welcome!" and was created by Seward Johnson, an artist known for his bronze statues.
The total cost for the restoration was $26,000 according to Village of Friendship Heights Manager Julian Mansfield. "We anticipate it will be covered by our insurance," Mansfield told MyMCM.
The vandalized sculpture was removed on April 8, 2021.
(Photos courtesy of Village of Friendship Heights)