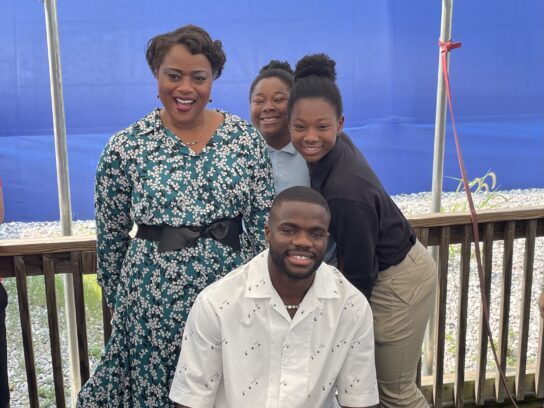 Last Monday, Frances Tiafoe shocked the tennis world with a stunning upset of legend Rafael Nadal at the U.S. Open in New York. Fast forward 11 days later, Tiafoe was back home getting a day named after him.
Friday afternoon  at the Junior Tennis Champions Center (JTCC) in College Park, Prince George's County Executive Angela Alsobrooks declared Sept. 16 Frances Tiafoe Day.
The Hyattsville native was greeted by legions of adoring fans and a gaggle of television cameras, including a crew from HBO's Real Sports, to celebrate Tiafoe's run to the 2022 U.S.Open semifinals. Tiafoe became the first American male to make it to the semis since 2006 and the first Black American man since Arthur Ashe in 1972 to advance that far.
Tiafoe answered questions at a press conference with Alsobrooks than signed autographs and took pictures with fans who had lined up to meet the local hero. That was followed by a ceremony in which the 24 year-old player, now ranked 19th in the world, was given proclamations from local politicians and lauded for his stellar play and for being a role model to little kids at the JTCC and beyond.
Today was proclaimed Frances Tiafoe Day in PG County. Big ceremony at ⁦@JTCCtennis⁩ in College Park. ⁦@mymcmedia⁩ pic.twitter.com/UUIElxwlQN

— Joe Yasharoff (@JYash) September 16, 2022
Folks were queueing up for an autograph and picture with ⁦@FTiafoe⁩ at ⁦@JTCCtennis⁩ on Frances Tiafoe Day. ⁦@mymcmedia⁩ pic.twitter.com/QlaykaccZR

— Joe Yasharoff (@JYash) September 16, 2022
I talked to tennis reporter/analyst Mary Carillo about ⁦@FTiafoe⁩. She is working on a piece for ⁦@RealSportsHBO⁩ that will air next Tuesday. I asked her about Tiafoe's storybook life. pic.twitter.com/vBCgehlnXK

— Joe Yasharoff (@JYash) September 17, 2022