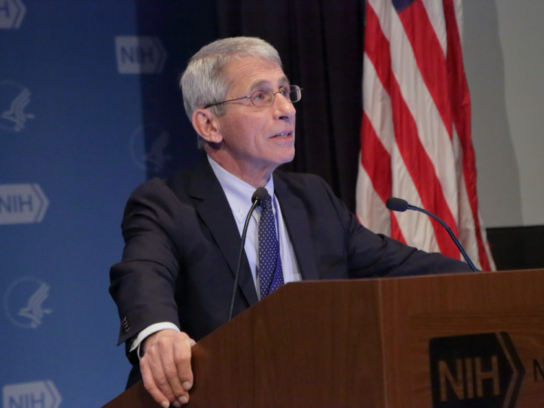 In a memo to coworkers, Dr. Anthony Fauci announced Monday that he "will be stepping down" from his government positions, effective this December "to pursue the next chapter of my career."
He currently is Director of the National Institute of Allergy and Infectious Diseases (NIAID) in Bethesda and Chief of the NIAID Laboratory of Immunoregulation, as well as the position of Chief Medical Advisor to President Joe Biden. He announced he would be leaving all these positions.
However, he stressed, "I am not retiring," adding, "I want to use what I have learned as NIAID Director to continue to advance science and public health and to inspire and mentor the next generation of scientific leaders as they help prepare the world to face future infectious disease threats."
His letter continued, "It has been the honor of a lifetime to have led the NIAID, an extraordinary institution, for so many years and through so many scientific and public health challenges. I am very proud of our many accomplishments. I have worked with – and learned from – countless talented and dedicated people in my own laboratory, at NIAID, at NIH and beyond. To them I express my abiding respect and gratitude."
Fauci has been the point person during much of the pandemic and a major figure involving efforts to combat the  infectious diseases of HIV/AIDS, West Nile virus, the anthrax attacks, pandemic influenza, various influenza threats, Ebola and Zika.
Fauci concluded in his letter to colleagues, "Thanks to the power of science and investments in research and innovation, the world has been able to fight deadly diseases and help save lives around the globe. I am proud to have been part of this important work and look forward to helping to continue to do so in the future."
He has been director of NIAID for 38 years, served under seven presidents, beginning with Ronald Reagan.
Upon hearing the news, Pres. Joe Biden said Monday that Fauci is "a dedicated public servant, and a steady hand with wisdom and insight honed over decades at the forefront of some of our most dangerous and challenging public health crises…His commitment to the work is unwavering, and he does it with an unparalleled spirit, energy, and scientific integrity."
Biden also stated, "Whether you've met him personally or not, he has touched all Americans' lives with his work. I extend my deepest thanks for his public service. The United States of America is stronger, more resilient, and healthier because of him."