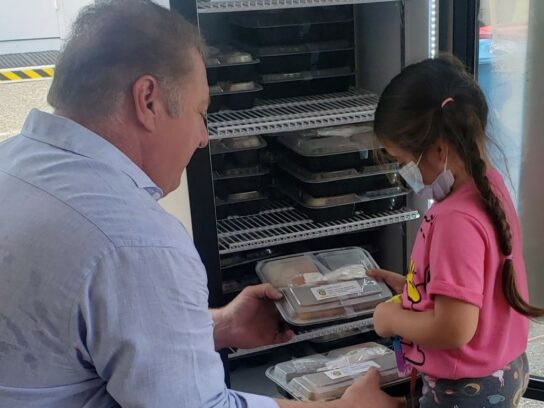 A refrigerator filled with healthy, restaurant-quality meals is now available at Mary's Center on University Boulevard in Silver Spring. This pilot program arose through a seed investment from Food for Montgomery, the public-private initiative led by the Greater Washington Community Foundation, Montgomery County and the Montgomery County Food Council.
Feed the Fridge places refrigerators at recreation centers, schools and near senior citizen centers throughout the Greater Washington, D.C. area. Anyone is welcome to come pick up a meal. There is no need to show proof of income.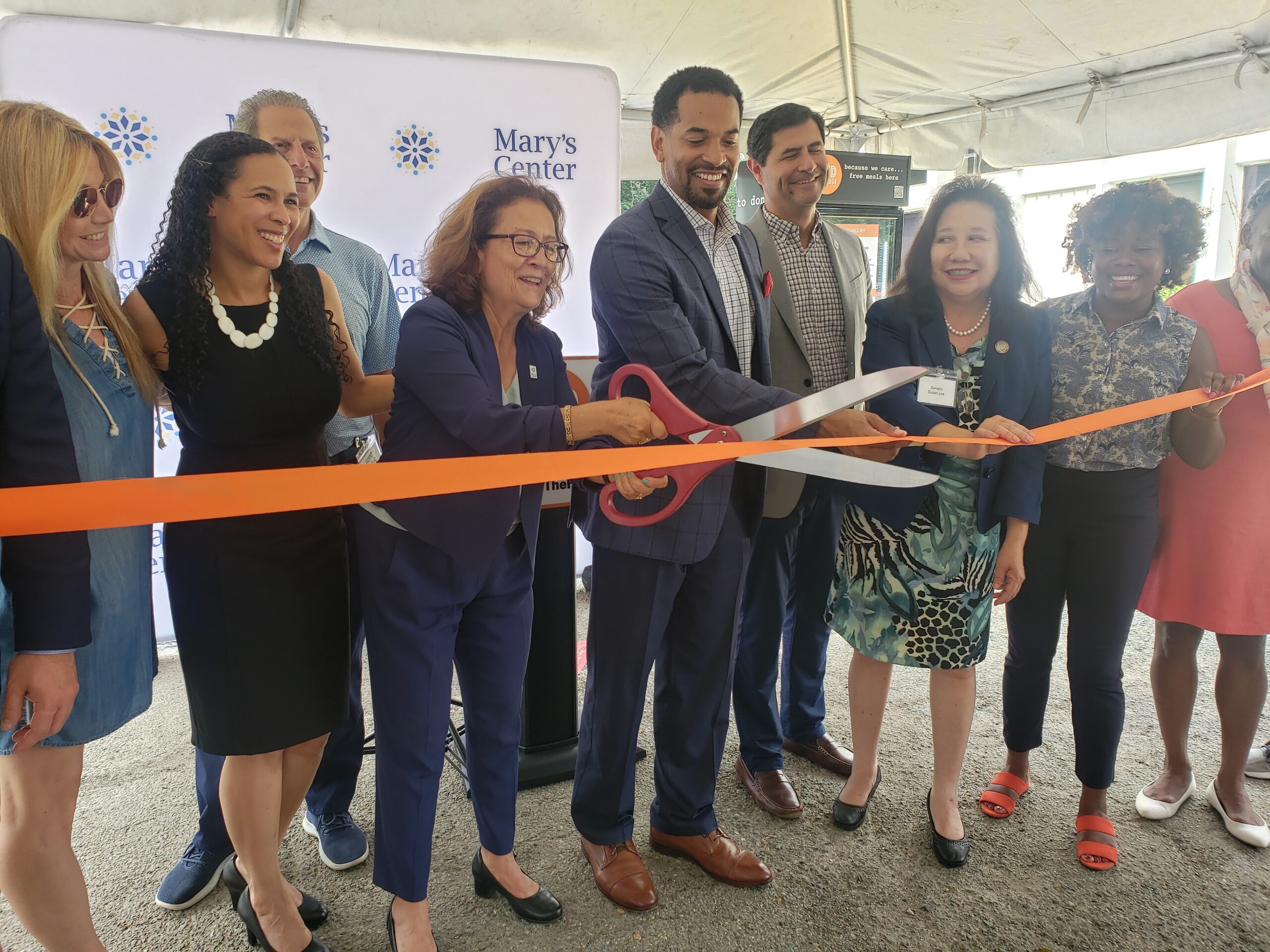 "This was always a dream," said Feed the Fridge Founder Mark Bucher. "This is proof. We are going to solve and eradicate hunger in Montgomery County. That is our goal." He added, "This is the first step of a journey that is going to take some time. I want us to be gone in 20 years." he said, envisioning the day when no one will go hungry.
Maria Gomez, President and CEO, Mary's Center, stressed that it was not only important to ensure no one goes hungry, but to do it in a way that gives people dignity and feels like they are receiving a gift, not a handout.
In the past five weeks since the refrigerator was placed at Mary's Center, 1,500 meals have been distributed. During the one-hour ribbon cutting ceremony, two people stopped by for meals.
Gomez said she grew up hungry. "I could have had more dreams, but I couldn't, because I was too hungry."
Anna Hargrave, Greater Washington Community Foundation Executive Director for Montgomery County, reminded everyone, "But for a twist of fate, anyone of us could find ourselves hungry."
While the county is coming back to life from the pandemic, Hargrave noted many still have no job and can't afford childcare. "There is no vaccine for hunger," she said.
Maryland Sen. Susan Lee praised all the organizations involved, noting that at the state level, "We have your back, front and side," adding, "We should not have to have anyone, any children, go hungry."
According to Maryland Delegate Pamela Queen, there are 74,000 county residents living in poverty. "That's more than the total population of nine counties in this state." Councilmember Gabe Albornoz noted that 230,000 county residents filed for unemployment during the pandemic.
"Covid didn't cause hunger. Don't think for a minute that it did. Covid taught us how inefficient our support system is," Bucher said.
The tall, thin refrigerator is adorned with the slogans, "because you matter," "because you are our future" and "because you work hard."
#FeedTheFridge has installed 22 refrigerators across the #DMV, and the newest one is right here in D20 at @MarysCenter! Anyone is welcome to walk up and grab meals from the fridge – no questions asked. #NourishmentWithDignity #MealSecurity @feedfridge pic.twitter.com/OIcn8wiq9R

— Jheanelle Wilkins (@JheanelleW) July 21, 2021
.@FeedFridge has a new fridge full of free, quality meals for anyone facing food insecurity at @MarysCenter in Silver Spring, an awesome provider of community health services. We enthusiastically support Feed the Fridge!

Consider helping if you can: https://t.co/LvuV48zqrz pic.twitter.com/nz9z6L28Im

— Councilmember Andrew Friedson (@Andrew_Friedson) July 21, 2021
It's official: Feed the Fridge's Mary's Center fridge is open and filled with nourishing meals from Jalapeno Mexican Grill! Thank you to today's speakers, @MarysCenter, @communityfndn, @CrossroadsNtwk & @MoCoCouncilMD for your support as we fight to irradicate hunger in #MoCo. pic.twitter.com/rW9E5Uu9ov

— FeedTheFridge | Nourishment With Dignity (@FeedFridge) July 21, 2021