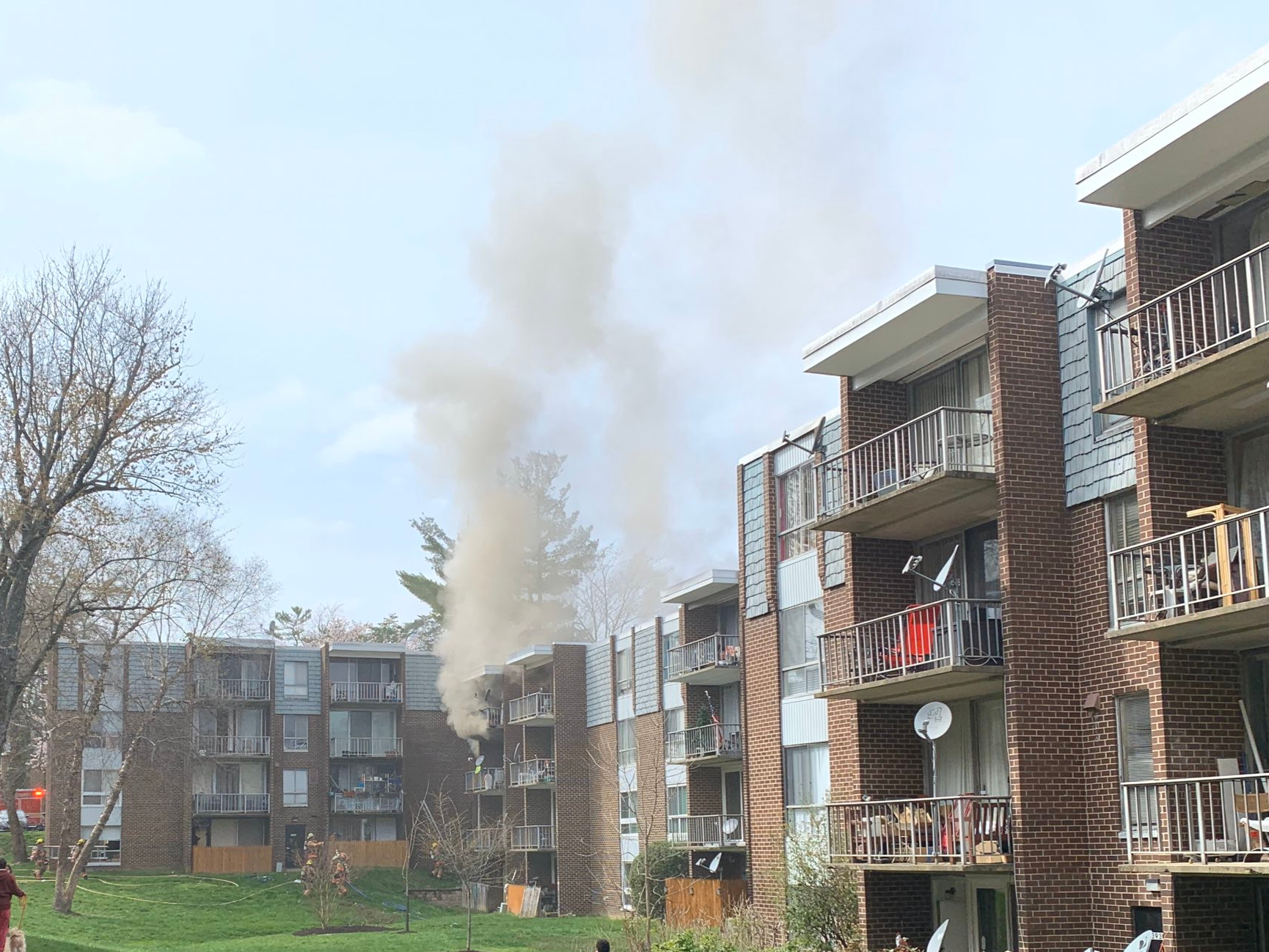 Fire Caused by Improperly Discarded Cigarettes Displaces Aspen Hill Residents
A fire in Aspen Hill Tuesday afternoon displaced at least 16 people from their homes, according to Montgomery County Fire and Rescue Service (MCFRS).
Officials said the fire happened around 3 p.m. at the Grand Bel II Condos in the 3900 block of Bell Pre Rd in Aspen Hill.
Fire and Rescue spokesperson Pete Piringer said smoke was showing when firefighters arrived at the scene.  About 85 firefighters responded to the fire.
Update – (initial dispatch ~3p) 3900blk Bel Pre Rd, Grand Bel II Condos, 3-sty apt bldg, @mcfrs FFs arrived w/ smoke & fire showing from 2nd & 3rd floor, bldg was evacuated, FFs assisted some, no serious injury, ~2 dozen residents displaced pic.twitter.com/hnBhqJEVER

— Pete Piringer (@mcfrsPIO) March 24, 2020
Piringer said the fire started in a second-floor bedroom and was caused by improperly discarded cigarettes. According to Piringer, the fire caused an estimated $275K in damages.
Several residents were evaluated by the emergency medical technicians and there were no serious injuries.
ICYMI (3/24) Aspen Hill families displaced https://t.co/HndA18X6Xa

— Pete Piringer (@mcfrsPIO) March 25, 2020
Update – 2nd Alarm, Grand Bel II Condos, 3900blk Bel Pre Rd, Aspen Hill, 3-sry apt bldg, fire on second floor with extension, buildings evacuated, @MCFRS_EMIHS evaluating several residents, no serious injuries pic.twitter.com/qzOF9CZJ5J

— Pete Piringer (@mcfrsPIO) March 24, 2020