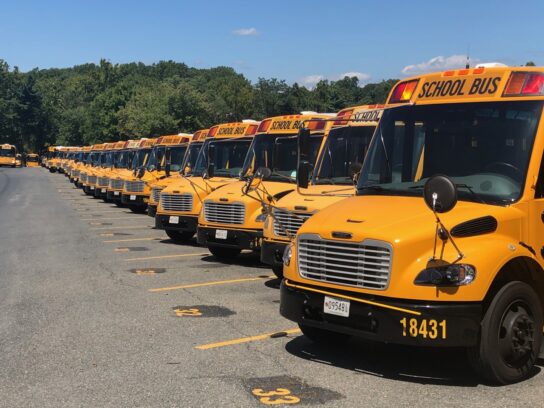 Montgomery County Public School parents and guardians snapped a lot of photos of their children stepping onto the school bus to begin a new school year Monday. Some of them also expressed frustration with school buses that didn't arrive on time, were overcrowded or dropped their children off much later in the afternoon than expected.
Besides normal first day glitches, MCPS is dealing with a shortage of "roughly 100" school bus drivers, MCPS Department of Communications Supervisor Gboyinde Onijala told MyMCM.
MCPS' 1,300 buses transport about 103,000 students to and from schools, according to the district's website, traveling more than 112,000 miles each week day.
On Twitter, parents posted their concerns, including one from families of Clarksburg Elementary School, which stated that kindergarteners were still coming home "when they should be preparing for dinner." Another person from the same school tweeted that the school bus which should have only 44 students had more than 68. "Even getting on bus is a nightmare," tweeted the parent.
According to Onijala, "Some drivers have to run double routes and parents were informed that this may cause delays. We are hopeful that it will start to smooth out as we hire additional drivers. The department of transportation is utilizing all of its staff—including supervisors and directors—to run routes to help alleviate."
According to the job posting on MCPS' web page, the salary for a bus operator is $19.53 an hour after that person has obtained a Commercial Drivers License. It is listed as a fulltime job but then explains "Full-Time means working 20- to 40-hours per week" and comes with full time benefits.
Carolyn Kaliza drove a school bus for MCPS for about three years and loved the job. However, she said she had to quit, because working four hours a day, or 20 hours a week, did not provide her with enough money.
"I loved being a bus driver. I remember saying I am definitely coming back," she said. "I loved driving a bus. I loved being around the kids. They loved me," she said.
Kaliza, who is now a fulltime Metro train driver, explained, "I left because the hours were not enough."
5:40 and my neighbors are still waiting for their Clarksburg Elementary School students. Kindergarteners are still living #MCPS1stDay when they should be preparing for dinner. ☹️🥺 pic.twitter.com/nqqrrO8tGO

— Racey7 (@racey7) August 30, 2021
@MCPS please get your act together and solve the overcrowding issue at Clarksburg elementary. Even getting on bus is a nightmare. 68+ kids for a bus holds 44, how you feel as a parent? #MCPS1stDay #clarksburgelemebtarymcps pic.twitter.com/GhgftaHnMn

— David Huang (@huangdc14) August 30, 2021
@MCPS @mocoboe Magnet Bus 3839 was supposed to arrive at 8:51am this morning and still has not arrived as of 9:54am. What gives? Many elementary kids have already missed their first mornings back at school.

— Will (@huckitplease) August 30, 2021
My kids got SO EXCITED when they saw Mr. Eddie, our fantastic school bus driver. Deeply grateful to him, MCPS teachers and staff for all their efforts. Happy #firstdayofschool #BacktoSchool2021!! 📚📓📝🥳🚌 pic.twitter.com/jSlFj57Agq

— Natali Fani-González (@NataliFGonzalez) August 30, 2021
Recent Post