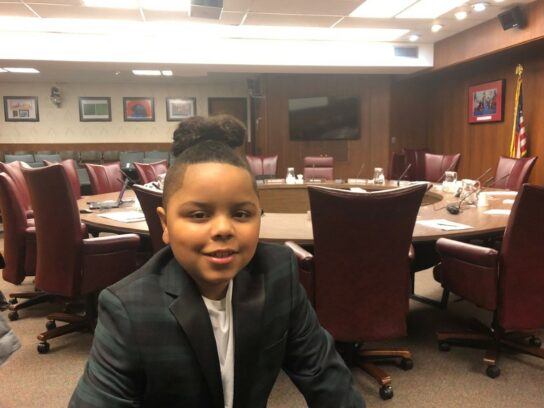 Seven-year-old Cavanaugh Bell asked Montgomery County's school board to help him put an end to bullying at their meeting Monday night.
Bell is a first-grade student at Spark M. Matsunaga Elementary School in Germantown. He created the non-profit Cool and Dope in order to make change after being bullied himself.
"I'm on a mission to eradicate all bullying worldwide by 2030," said Bell. "There is a silent epidemic that no one wants to address that kids like me are being bullied and kids like me are choosing suicide as the answer."
Bell asked the school board to look at ways to make schools "more inclusive and safer spaces for change."
"I urge you to improve the current bullying framework to address and prevent teacher bullying, because science shows us that this is far more dangerous and emotionally damaging to students than other types of bullying," said Bell. "The truth is bullies come in all sizes shapes, races, religions, genders and ages, so I need your help to do the hard work and make change happen because our safety and our mental health matters too."
Bell's non-profit Cool and Dope has already made strides in spreading awareness about bullying. They helped make Feb. 21 Bullying Awareness Day in Gaithersburg. Cool and Dope also worked to make the month of October recognized as Bullying Prevention Month in Montgomery County.
In response to Bell's speech, board member Rebecca Smondrowski said she was very impressed by Bell.
"I keep waiting for the day I see you on Ellen (The Ellen Show)," said Smondrowski.
People always ask me why I started Cool & Dope. And the answer is simple, I wanted to do my part to make the 🌎 a better place! pic.twitter.com/co6PaohWb6

— Cool & Dope (@cooldopeliving) February 19, 2019