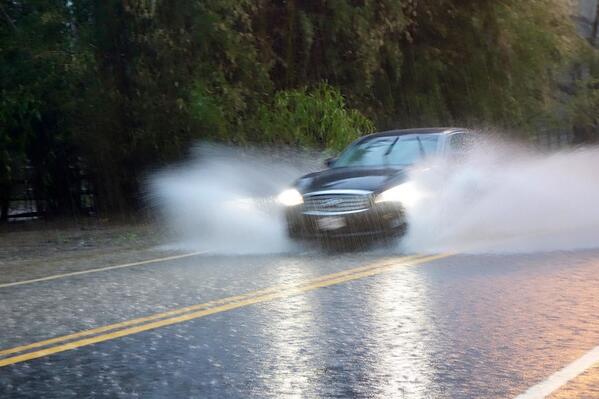 Flash Flood Watch For Thursday as NWS Expects Thunderstorms
The National Weather Service has issued a flash flood watch for Montgomery County Thursday from 2:46 a.m. to midnight.
Slow moving showers and thunderstorms are forecast throughout the day and they could produce heavy rainfall. Flash flooding is possible.
A flash flood watch means conditions could develop leading to flash flooding which is very dangerous.
A Flash Flood Watch is in effect thru this evening. Thunderstorms may produce scattered instances of flooding today into this evening. pic.twitter.com/S8dbNiNg4Y

— NWS Baltimore-Washington (@NWS_BaltWash) August 6, 2020
Montgomery County maintains a list of roads that are prone to flooding.
Down-county areas:
MD 29 (Columbia Pike) at Paint Branch – N. of White Oak
MD 185 (Conn. Ave) at Rock Creek – S. of Kensington
MD 190 (River Road) at Cabin John Creek – Potomac
MD 193 (Univ. Blvd) at Sligo Creek – Wheaton
MD 586 (Veirs Mill Rd) at Rock Creek – S. of Twinbrook Pkwy
Beach Drive in Rock Creek Park – Kensington-Chevy Chase
Sligo Creek Pkwy – Silver Spring-Takoma Park
Up-county areas:
MD 97 (Georgia Ave) at Reddy Branch – N. of Brookeville
MD 124 (Woodfield Rd) at Goshen Branch and at Gr. Seneca Creek – N. of Brink Rd.
MD 117 (Clopper Rd) at Gr. Seneca Creek – W. of Gaithersburg
MD 117 (Clopper Rd) at Little Seneca Creek  – E. of Boyds
MD 355 (Frederick Rd) at Little Seneca Creek – W. of Brink
MD 121 (Clarksburg Rd) near Little Seneca Lake – N. of Boyds
MD 118 (Germantown Rd) at Great Seneca Creek – S. of Germantown
River Rd and Berryville Rd at Seneca Creek
Blunt Road at Great Seneca Creek – S. of Brink Rd.
Davis Mill Rd at Great Seneca Creek – N. of Gaithersburg
Brighton Dam Rd at Hawlings River – NE of Brookeville
Goldmine Rd at Hawlings River – E of Olney
Zion Rd at Hawlings River – E. of Laytonsville
Hoyles Mill Rd at ford of Little Seneca Creek – Germantown, west of the soccer complex
Loghouse Rd at Magruder Branch – S. of Damascus
Elton Farm Rd at Haights Branch – N. of Sunshine
Howard Chapel Rd at Haights Branch – N. of Sunshine
White's Ferry Road and River Road – White's Ferry