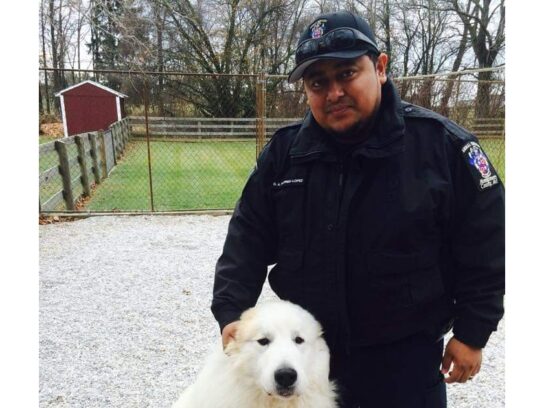 Dany Flores-Lopez, an animal services officer with the county's Office of Animal Services, won the 2022 Humane Law Enforcement Officer of the Year award from the National Animal Care and Control Association.
Flores-Lopez began working with animals as a kennel attendant in the Montgomery County Humane Society and then became an animal control officer with the City of Gaithersburg. He began working for the county in 2013.
"I fell in love with animal care at a young age, but to be able to grow up and achieve my dream job is indescribable," said Officer Flores-Lopez.
Office of Animal Services Executive Director Thomas Koenig said in a news release, "Officer Flores-Lopez is a consummate team player who goes above and beyond to support both his coworkers and the community."
The award is presented to an individual whose exceptional performance and work in the field of humane law enforcement has demonstrated a strong commitment to the safety and welfare of the animals in their community.
Flores-Lopez was honored for his efforts helping fellow officers, cleaning kennels to support the care staff at the shelter, working the dispatch call center and assisting the adoptions programs and administrative staff.
The animal services office runs the county Animal Services and Adoption Center. Officers investigate complaints and respond to animal emergencies.
Dany Flores-Lopez, an animal services officer with the Montgomery County Office of Animal Services, has been named the 2022 Humane Law Enforcement Officer of the Year by the National Animal Care and Control Association. 📰➡️ https://t.co/nloIdwZSJU pic.twitter.com/w0t6SSA9Qa

— Montgomery County MD (@MontgomeryCoMD) October 26, 2022