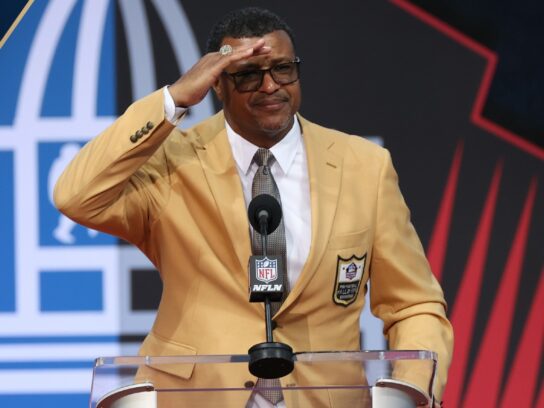 Former Denver Broncos' safety Steve Atwater, who coached at Sherwood High School, was officially inducted into the Pro Football Hall of Fame Saturday.
Drafted out of the University of Arkansas, Atwater played safety for the Broncos from 1989-1998 before finishing his career with the New York Jets in 1999.
Atwater won two Super Bowls with the Broncos. He was named to the Pro Bowl eight times, was voted first-team All-Pro twice and second-team All-Pro once and was named to the NFL 1990's all-decade team.
Chris Grier was in his first season as head coach when Atwater joined his staff in 2013 as the defensive backs coach. Grier told MyMCM, "What was great about Steve is that he was a calming influence. Despite his experience and Hall of Fame status, he was not overbearing. He never pushed upon me anything and just seemed like a great team member."
"Steve also worked great with the kids. He wasn't overly hard on them but he didn't have to because his stature and experience commanded respect. When he spoke, players and coaches listened," Grier said.
Atwater's youngest son, Paris, played linebacker at Sherwood High School.
During his speech, Atwater said, "Now, to my three beautiful, good-hearted sons, Stephen, DiAndre and Paris: Hey, man, I'm honored to be your father, and I'm proud of the incredible young men that you've become. Keep working hard and striving to reach all of your goals. Your mother and I will always be in your corner. We love you, man."
First Look: The Bronzed Bust of @SteveAtwater27!#PFHOF20 | @Broncos pic.twitter.com/w4aUTBjDVO

— Pro Football Hall of Fame (@ProFootballHOF) August 7, 2021
A moment worth waiting for. 👏

Relive @SteveAtwater27's @ProFootballHOF enshrinement » https://t.co/Ckr3CLcWfb

📺: @nflnetwork pic.twitter.com/ysidCZpzXm

— Denver Broncos (@Broncos) August 8, 2021
(Photo courtesy Denver Broncos Twitter)