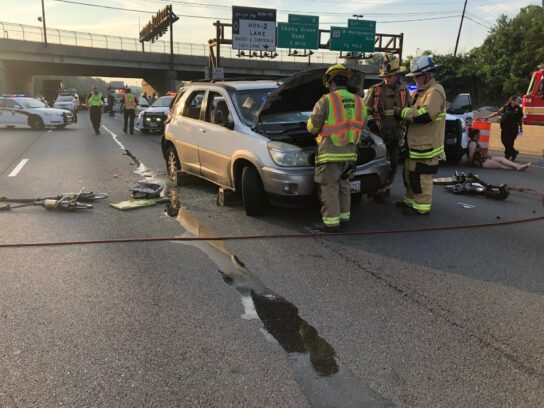 Montgomery County and Maryland State Police responded to a collision on southbound I-270 near Falls Road Tuesday around 7:15 p.m. The crash involved five vehicles.
Four people were transported to the hospital with non-life-threatening injuries. Maryland State Police assisted with the lane closures, according to a spokesperson for the state police.
Maryland Emergency Medical Services, Maryland State Police, Maryland State Highway Administration, Montgomery County Police, and Montgomery County Fire and Rescue Services all responded to the scene.
More (6/9 715p) SB I-270 at Falls Rd collision w/ multiple (5) vehicles involved, @mcfrs units on scene incl PE726,A710, A751, T710, RS703, SA700, EMS703, A743, A723B, AT723, C742C, C703, BC702, C703D, @MDSP @MDSHA w/ some lanes blocked https://t.co/exIYfTJOQC pic.twitter.com/FfG4HpOV04

— Pete Piringer (@mcfrsPIO) June 10, 2020