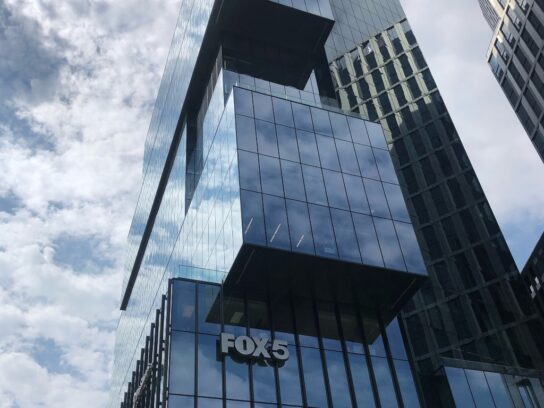 After five decades at 5151 Wisconsin Avenue in the Friendship Heights neighborhood of NW Washington DC, Fox 5 is getting new, shiny digs in Bethesda. The new headquarters are two miles up the street located at 7272 Wisconsin Avenue. Fox 5 will take up three floors of the new building. The first show from the new building is scheduled for Saturday at 6 pm.
Good morning for the last time 😳…. from this studio!

We'll be in a BRAND NEW state-of-the-art studio starting next week! 🙌🏻

Join us now and then! @WisdomFOX5 @MarissaMFOX5 @MikeTFox5
Producer @SaraFox5DC

📺 —> https://t.co/ozybP23pdT pic.twitter.com/KFRepsZsjh

— Holly Morris (@HollyLiveFox5DC) July 23, 2021
After 18 years parting is such sweet sorrow at 5151 Wisconsin ave. We go live Monday 7272 Wisconsin ave. #gooddaydc

— Wisdom Martin (@WisdomFOX5) July 23, 2021
FOX 5's last show in The Loft! Here's a look back at our favorite faces and https://t.co/D9TtCJHO5J

— FOX 5 DC (@fox5dc) July 23, 2021
Over the years, many notable people including Maury Povich, Brian Williams, Connie Chung, Al Roker, Tony Perkins, Steve Buckhantz and Amy Robach worked at Fox 5 (or WTTG as it was celled previously).
Fox 5 chief meteorologist Sue Palka is in her 36th year with the station.
Related post:
MoCo's Most Famous: FOX5's Sue Palka Reflects on 33 Years in Montgomery County