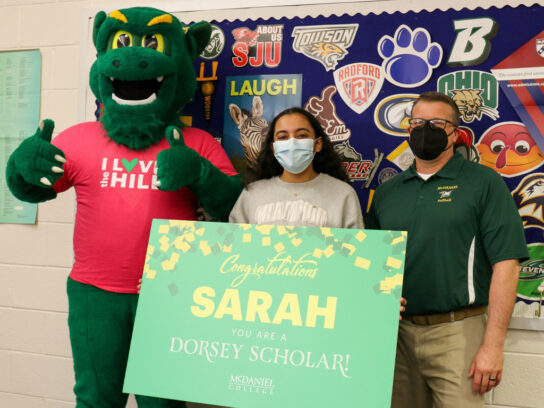 Sara Youssef, a senior at Gaithersburg High School, received the Dorsey Scholarship to McDaniel College, which comes with a $200,000 scholarship. Timothy Qian, a senior at Montgomery Blair High School in Silver Spring, placed fifth in the prestigious Regeneron Science Talent Search, earning a $90,000 scholarship.
Youssef, of Clarksburg, was one of five members of the incoming class at McDaniel College in Westminster, Md., to be awarded the scholarship. The Dorsey Scholar Program is the highest academic award at McDaniel. The money comes from the estate of 1891 alumnus Philip Henry Dorsey.
This is the second year in a row that a Gaithersburg High student was named a Dorsey Scholar.
Qian, of Rockville, earned the scholarship for his study of quantum metrology, which uses quantum entanglement to get more accurate measurements. He developed an innovative protocol that could one day be used with quantum sensor networks to improve hardware controlling quantum computers and improve nanoscale nuclear magnetic resonance imaging, according to the Regeneron Science contest.
Qian plays tennis and viola. During the summer of 2020, he was an intern with the Joint Center for Quantum Information and Computer Science, which is a joint program with the University of Maryland and the National Institute of Standards and Technology.
Congrats GHS senior Sarah Youssef on receiving the prestigious Dorsey Scholarship to @McDanielCollege . Sarah has received a $200k FULL scholarship! Two years in a row GHS had had a Dorsey Scholar! As a parent of a McDaniel student – Welcome to The Hill Sarah! pic.twitter.com/Q4qoujVhCz

— Cary Dimmick (@GburgPrincipal) March 17, 2021
This year's second Dorsey Scholar is Sarah Youssef, a senior at Gaithersburg High School @MCPS! 🎉💚💛
Sarah was surprised at her school today by representatives from the Admissions Office and the Green Terror.
Check out @ABC7News coverage here: https://t.co/qQ7u2frCuE pic.twitter.com/LZoVF6mucQ

— McDaniel College (@McDanielCollege) March 17, 2021
https://twitter.com/blairprincipal/status/1372353950775713792?s=20