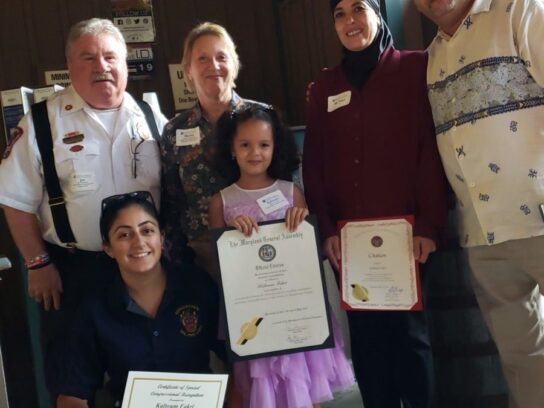 At the Gaithersburg-Germantown Chamber of Commerce (GGCC) annual public safety awards breakfast, six-year-old Kaltoum Fakri was unable to join us to be awarded the 2nd annual Chamber Community Award, so we were delighted that she could join us – with her family- at our annual membership picnic on September 19, 2019.
The 2nd annual Chamber Community Award recipient was six-year-old Kaltoum Fakri, who saved her mother's life over the Summer. This is a story of bravery. Fakri's mom wasn't breathing and she tried to wake her, but nothing was working. She acted fast, called 911, & followed the dispatchers' instructions to seek help from a neighbor. She ran two doors down to Joe Chornock's house. Chornock is the Fire & Rescue Chief of the Germantown Volunteer Fire Department. He was able to revive the mother before emergency medical services arrived.
"Not many six-year-olds would have been able to have remained so calm & so brave in a situation such as this. Children are taught to call 9-1-1 & to tell the dispatcher where they are calling from, but in reality, it is not as easy as it seems," said Chornock.
Fakri is happy to have her Mom alive and breathing. For her efforts, Fakri was the second recipient of the Gaithersburg-Germantown community service award & was presented the Citation of Bravery.
"This was a phenomenal story & it was an honor to give her the award," said Marilyn Balcombe. GGCC president / CEO.
The GGCC is active in providing business-to-business networking opportunities throughout the year: a collective voice in local, regional, and state legislative affairs, professional development opportunities and other services that enhance the business environment.