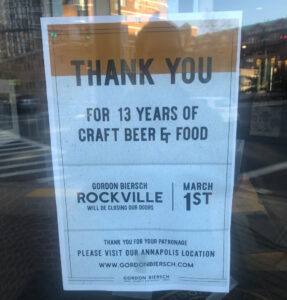 Gordon Biersch restaurant and brewery in Rockville has closed permanently. As of Monday morning, signs hung in the doors and windows of the Rockville Town Square establishment announcing the closing. At 9 a.m. on Monday, managers and employees were gathered inside to meet.
In a statement sent to MyMCMedia, Josh Kern, Chief Experience Officer for CraftWorks Holdings, said, "This was purely a business decision as we continue to focus on other Gordon Biersch locations throughout the country. It's never easy to close a restaurant. We appreciate our teams and raving fans of the brand and we certainly enjoyed operating this restaurant in Maryland. We continue to be optimistic about the future of Gordon Biersch and are pleased with recent progress made on several growth initiatives that we believe should have a meaningful impact on our business."
The MoCo Show was first to report the story.
Gordon Biersch opened on July 17, 2007. It was part of Phase I of the Rockville Town Center project 13 years ago.