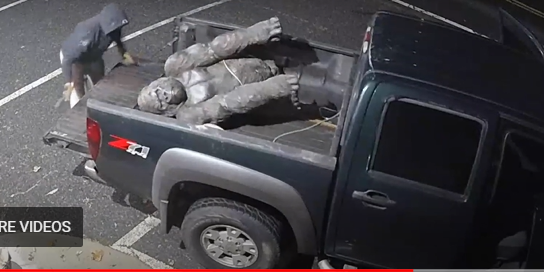 A large gorilla statue that stood outside Design Emporium Antiques in Kensington was cut from his cable and stolen. Montgomery County Police released surveillance footage in hopes of catching the person who stole it.
Store owner Kristina Jamgochian called the gorilla Murphy, and often blamed him for anything that went wrong or missing, she said referring to Murphy's Law. "He was like human to us. I miss him more than anything."
Footage of the Jan. 4 theft captures the act. The suspect is described as a White male, about 5–feet, 10-inches tall with a medium build. He was wearing a dark hooded sweatshirt, light gray sweatpants and light-colored shoes.
According to police, at about 3:18 a.m., the suspect parked his Chevrolet Colorado Z71 truck in front of the store in the 4000 block of Howard Avenue. He then went to the statue, cut the cable that locked the cast metal gorilla to the front of the store, loaded it into truck and drove away.
"I've had it outside for probably less than a year. It's been inside before, said Jamgochian. "It weighs a ton."
Jamgochian got Murphy at an auction and had recently sold him to a woman from West Africa, who planned to display it at her hotel. The plan was for Murphy to travel by cargo ship to his new home.
Anyone with information regarding this suspect or crime should contact Crime Solvers of Montgomery County at 1-866-411-TIPS (8477). A reward of up to $10,000 is being offered for information that leads to the arrest of the suspect. Callers can remain anonymous.