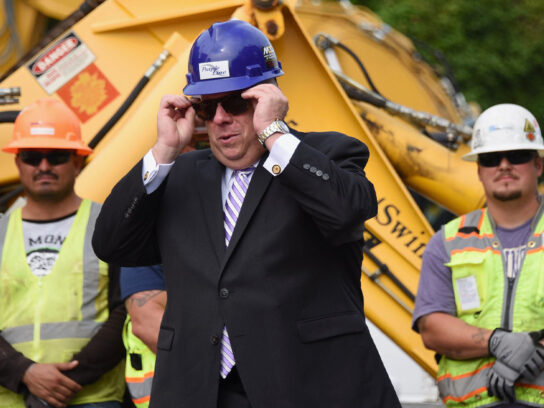 Maryland Gov. Larry Hogan announced Thursday that the first part of the Purple Line has been laid. 
"In Maryland we are proud to be setting an example for the rest of the nation and the Purple Line is at the heart of our state's infrastructure success story," he said. 
The $5.6 billion project is the largest public-private transit project in North America. Gov. Hogan said that since construction began, builders were leveling land, moving utilities and tunneling, and have now installed the first parts of the track. 
The 16-mile light rail will run from New Carrollton in Prince George's County to Bethesda. The line will have 21 stations connecting to the Orange, Green and Red lines in the Metrorail system, as well as several MARC train lines and one Amtrak line at New Carrollton. 
Montgomery County Councilmember Evan Glass tweeted about the installation. He expressed his excitement about the Purple Line, but also his disappointment that local officials, like himself, weren't invited to the event. 
This is exciting news! I'm thrilled that the first Purple Line track will be laid on Thursday.

Though I'm disappointed that Governor Hogan didn't invite any of the local officials to join in the celebration. After all, we're paying for the project too. https://t.co/C4OfJUoUAc

— Evan Glass (@EvanMGlass) September 4, 2019
"After all, we're paying for the project too," the tweet concluded. 
According to the Purple Line's Instagram page, all University of Maryland (UMD) students, staff and faculty can ride the line for free at five UMD stops. 
https://www.instagram.com/p/B1zMjblBHyb/?utm_source=ig_web_copy_link
 Gov. Hogan broke ground for the Purple Line almost two years ago.