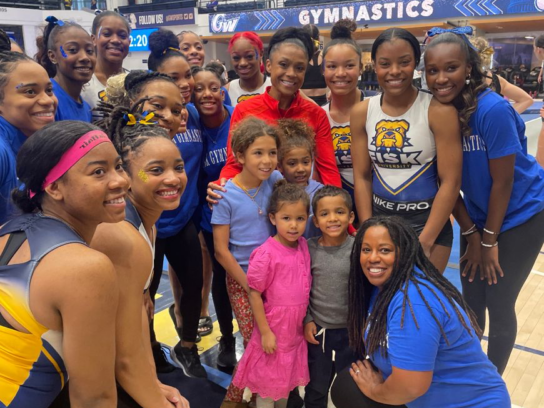 Olympic gold-medal winning gymnast and Silver Spring native Dominique Dawes has been playing the role of cheerleader for Fisk University's gymnastics team.
Fisk University recently became the first historically Black college or university (HBCU) to participate in NCAA gymnastics. The team had their first meet of the season at a Las Vegas invitational in January. Prior to this event, no HBCU had ever competed at this level, or even fielded a women's gymnastics team.
Dawes showed her support for the Fisk gymnastics team by attending, along with with her husband and kids, a recent meet at George Washington University. She told MyMCM, "I was so impressed, and had a great time with my family, being around these young women. Their poise, their upbeat attitudes, and their trailblazing mission, were on full display last weekend."
Dawes said, "Their head coach Karine is an amazing person and such a wonderful role model for those ladies. We knew each other as kids. I hope they can continue to have a program and more HBCUs have programs in the years to come."
After competing for the U.S. Olympic team for 10 years, Dawes used her passion to found her own gymnastics and ninja academy in Clarksburg. She works to uplift children interested in gymnastics, and crafts their talent with lessons, camp events, and open gym sessions.
Through her Instagram, Dawes has posted multiple videos voicing her support for the team. They have achieved significant milestones during Black History Month and are continuing on through Women's History Month.
As the team continues to create history, Dawes has done the same. The second location for her expanding academy is set to be located in Rockville.
"I realize what I accomplished as a groundbreaking gymnast in the 90s, by being the first black female to ever win a gold medal in the Olympic Games. I brought my gold medal to show the Fisk girls, and there were many emotions. I told them that they're history makers, as well. It was very fulfilling to share that with my own kids," Dawes said.
(Photo courtesy of Jeff Thompson)