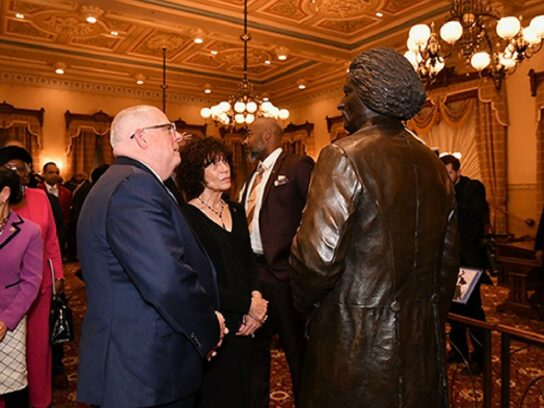 Gov. Hogan unveiled statues of Maryland abolitionists Frederick Douglass and Harriet Tubman at the Maryland State House on Monday. Their statues were placed in the Old House of Delegates Chamber of the State House, the room in which the decision to abolish slavery in Maryland was made. 
Tubman and Douglass were born into slavery in Maryland, and both freed themselves before going on to advocate for the abolition of slavery.
According to a press release from the Governor's Office, "Maryland citizens have consistently expressed a desire to add these abolitionists to the public experience of the nation's oldest working statehouse." 
During his remarks at the events, Hogan noted the timeliness of the unveiling during Black History Month and hoped that the statues would serve as reminders of the work of Tubman and Douglass. 
"It is my hope that when we view these wonderful statues of these incredible heroes and reflect on the countless contributions of these remarkable leaders, it will remind each of us to always stand on the side of goodness and love, and on the side of unity and justice," Hogan said at the unveiling, according to the press release. 
The statues were designed in a style consistent with the statue of President George Washington that resides in the old Senate Chamber of the statehouse, the press release said. The Maryland State Archives was responsible for the project and decided to portray the figures during significant periods of their lives.
Each of the sculptures is cast in bronze, and each one weighs between 400-500 pounds. The design required research into how to best install the sculptures while protecting the structural and historical integrity of the State House. The statues cost a combined  $575,477, according to records from the Department of Public Works.