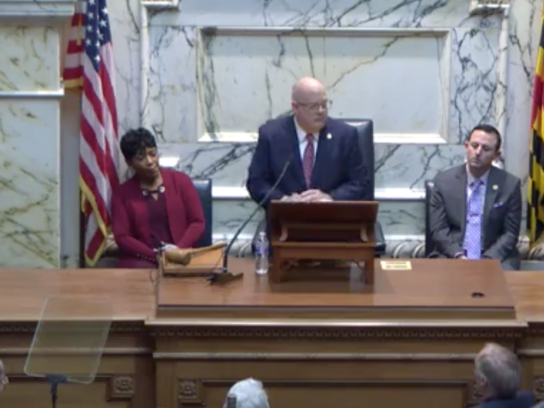 Gov. Larry Hogan (R) delivered his sixth State of the State Address on Wednesday afternoon in Annapolis.
Hogan's speech often contrasted Maryland's bipartisan achievements with the divisiveness in national politics seen in Washington D.C. and beyond.
"Maryland has indeed been setting a shining example for the rest of America," Hogan said.
Here are some of the topics Hogan's speech focused on.
Retirement Tax Reduction Act of 2020
Under this plan, retirees making $50,000 or less, who are often forced to make tough choices every single day just to make ends meet, will pay no state income tax whatsoever. And all retirees earning less than $100,000 will see a tax reduction of no less than 50% and up to 100%."
Education
[The General Assembly] can help us build on that historic [education] investment by passing our "Building Opportunity Act of 2020," that will provide a record $3.9 billion in funding, the largest investment ever in school construction, which will enable us to fulfill every single request from every single jurisdiction in the state for new school construction and for upgrades and repairs to aging schools."
Transportation
We have taken a balanced, all-inclusive approach to infrastructure, investing $14 billion in transit—the most ever—and beginning construction on the Purple Line, which is the largest P3 transit project in North America."
Climate Change
We pushed for landmark legislation which cemented our position as a national and international leader in combating greenhouse gas emissions, and implemented clean air standards which are stronger than 48 other states and nearly twice as strong as the Paris Accord recommendations."
Ethics and Accountability in Government Act
This is an important effort to help restore the public's trust and to bring further transparency and accountability to Annapolis. We cannot allow the unethical behavior of a few to tarnish the goodwill of the many in our state capital."
Maryland Having Most Gerrymandered Districts in the Country
This General Assembly should not continue to ignore the will of the overwhelming majority of our citizens. […] To strike a win for democracy, fairness, and decency by finally, after five years, bringing the nonpartisan redistricting bill to the floor of this body for an up or down vote."