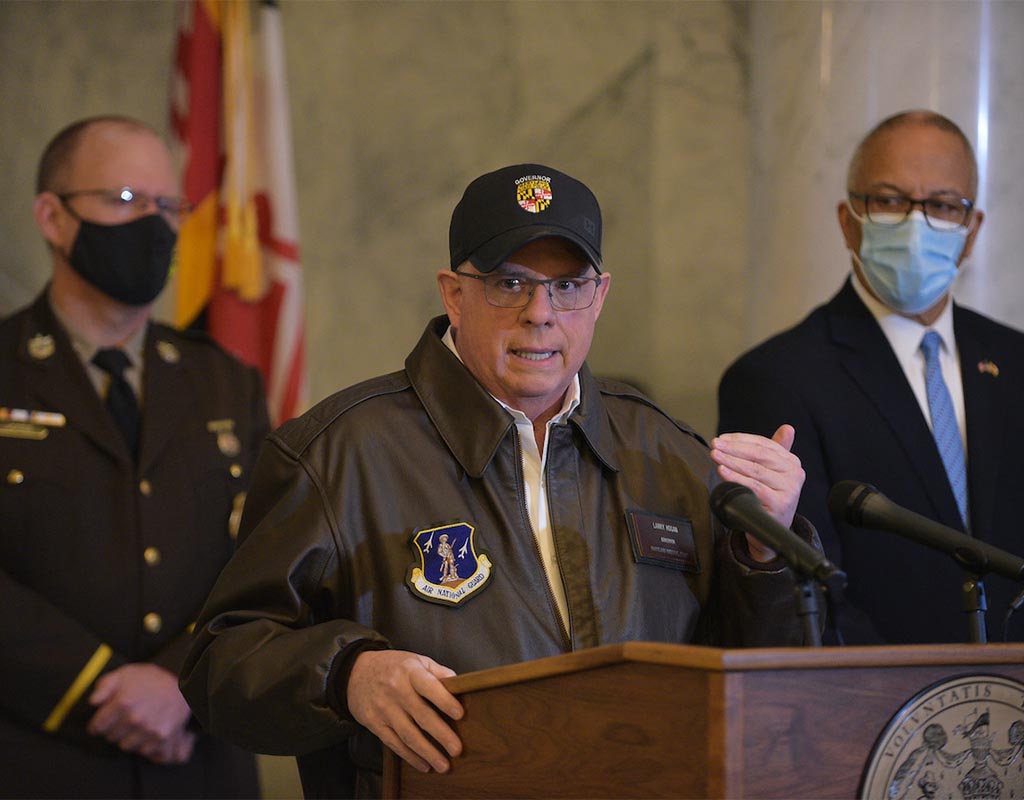 Gov. Larry Hogan said Thursday that the Maryland National Guard will remain in Washington through President-elect Joe Biden's Jan. 20 inauguration and the end of the month, after the force was deployed to the U.S. Capitol on Wednesday afternoon amid an insurrection.
"The state of Maryland will do anything and everything we possibly can to continue to secure the core of our nation's capital and to ensure a peaceful transition of power," the governor said in a news conference.
Hogan, a Republican, said he received a call Wednesday from House Majority Leader Steny Hoyer, D-Mechanicsville — who was bunkered down in an undisclosed location with Speaker Nancy Pelosi and Senate Minority Leader Chuck Schumer — pleading to send backup for the overwhelmed Capitol Police.
Congress' joint session to certify Biden's Electoral College win was disrupted when Trump-supporting rioters breached the building.
Two hundred specially trained riot officers from the Maryland State Police were already en route, Hogan said he told Hoyer on the phone, but the Defense Department repeatedly denied requests to send the state's National Guard. Army Secretary Ryan McCarthy approved the deployment an hour and a half later.
The initial group of National Guard troops from Maryland was the first to arrive from outside the District, Hogan said.
Security has also been increased at the Maryland State House, where Hogan delivered his remarks, as protests at other similar government buildings pop up across the country.
Maryland's old Senate chamber is where "the peaceful transition of power was born," Hogan said, when then-General George Washington resigned as commander-in-chief of the Continental Army after winning the Revolutionary War.
Hogan said President Donald Trump — who has "chosen to fan the flames of hate and mislead millions of voters through lies and conspiracy theories than face the reality of his own defeat" — should leave or be removed from office so that Vice President Mike Pence could ensure that the torch can be passed to Biden conflict-free.
"Enough is enough," Hogan said. "Enough of the lies, enough of the hate, enough of the total disfunction. Just enough."
Related Post:
Gov. Hogan Calls for Trump's Resignation, Removal from Office