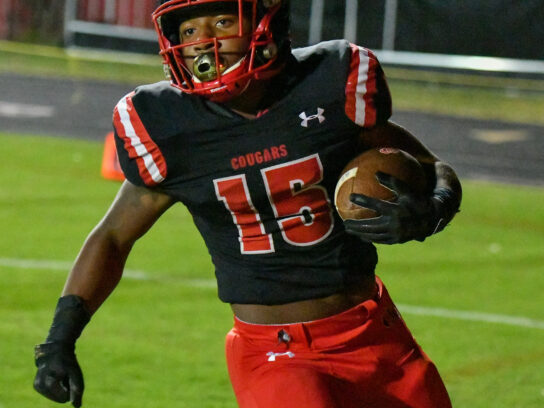 Darnestown, MD: Friday, October 4, 2019
Clarksburg's Coyotes were a part of the homecoming festivities for Quince Orchard.  They were lucky to be the next scheduled home opponent for the Cougars. #3 Quince Orchard dispatched them quickly and efficiently rolling to a 56-0 win.
On this mild early fall evening all eyes were not solely on the game but rather on the former stars gathered on the field.  For Quince Orchard High School, which opened in 1988, used this evening, in front of a homecoming crowd, to introduce and induct 23 members into their very first Hall of Fame class.
Eighteen of the twenty-three inductees were present prior to the coin flip who were announced to a standing room only "blackout" home stand crowd. This group was comprised of administrators, teachers, student-athletes, coaches and boosters.
Moments earlier all inductees were present inside the school for the unveiling of a Hall of Fame display filled with these names from the past and plenty of room left to add more.
After the coin toss the HOF inductees along with the 20th year reunion class of 1999 was treated to present day Cougar football.  There on the field they could see the performance of at least two and perhaps more future Hall of Famers.
QO Coach John Kelley kept up the 2018 state champion's unbeaten streak following its lost last October, out of conference, to Bullis Prep.  Meanwhile, Marquez Cooper rushed for 214 yards and 3 touchdowns adding to his historic school record career with every yard gained and points accumulated.
Next time you are at QO check out the Hall of Fame board across from the administration offices. There you will find these members highlighted along with their honored distinction. Here is the list of inductees and class year in parentheses.
Wayne Bartholomew (09); Frankie Baughan (03); Ruth Kura (98); Bart Mease (95); Jerry Link (1988-1999); Nick Bobruska (2005-15); Dave Mencarini (2002-13); Ariel Nehemiah (08); Ernie Ceccato (1988-1999); Alice Chen Grady (06); Karen Pullian Egan (02); Jessica Dorney Schwartzman (01); Jamie Rosenthal Miller (95); Aron Dorsey (99); Lisa Schrader (1988-2013); Brittany Dorsey (03); Dan Shea (1996-2006); Emily Ellenberger (07); Ace Tate (98); Bani Gbadyu (06); Stephanie Withers Blake (04); Troy Harry (03); and Travis Hawkins (08).
Photos to follow
All images copyrighted 2019 © Phil Fabrizio | PhotoLoaf® for MCM