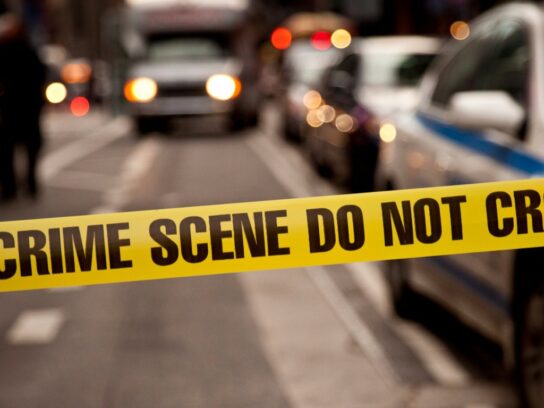 As 2021 drew to a close, Montgomery County ended the year with more than double the number of homicides experienced in 2020. There were 35 homicides in 2021 as compared to 17 in 2020, according to Montgomery County Police (MCP).
The county also tallied an increase in aggravated assaults, non-fatal contact shootings and carjackings as of the last week in December. Aggravated assaults increased by 159, from 805 in 2020 to the current 964. Also on the rise were non-fatal contact shootings, which jumped from 28 in 2020 to 49 this year.
The number of homicides and aggravated assaults are counted by the number of victims, not incidents. These statistics do not include what the police call justified homicides.
Carjackings have doubled this year, from 30 to 60. Auto thefts also rose. There were 1,120 in 2020 as compared to 1,373 so far this year.
"Obviously, Montgomery County is not immune to the rise in crime," Montgomery County Executive Marc Elrich said. "We are going to do everything we can to see that all communities are safe."
This Montgomery countywide chart from MCP includes crimes that were committed as of Dec. 28.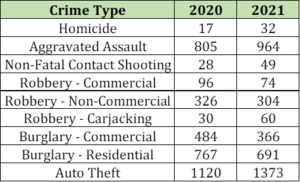 Silver Spring also was the scene of increased crime during 2021. It is a census-designated place. As of the 2020 census, it is the second most populous place in Montgomery County after Germantown and the fifth most populous place in Maryland. It encompasses such communities as Wheaton, Glenmont, Burtonsville, White Oak and Sandy Spring.
Violent crimes rose in Silver Spring while sex offenses, auto thefts, thefts from vehicles, weapons and drug offenses and driving under the influence incidents decreased during 2021, according to MCP. There was one murder in Silver Spring in 2021 (the police-involved shooting in Downtown Silver Spring on Dec. 29).
Montgomery County officials have been meeting with area residents, business owners and shoppers to discuss ways to reduce crime in Silver Spring, Elrich said. He intends to submit a funding request to the county council soon that will, among other things, enable the county to collect better data for greater accountability, he said.
Aggravated assaults in Silver Spring rose from 31 in 2020 to 56 in 2021, which is an 81% increase, according to MCP. Non-fatal shootings jumped from six to 13, a 117% increase.
Auto thefts increased by 32%, from 136 in 2020 to last year's 179. Thefts from vehicles decreased from 345 in 2020 to 259 in 2021. Weapons offenses dropped by 16% and driving under the influence incidents reduced by 30%.
"We are addressing the rise of violence in Silver Spring," Elrich said as the year drew to a close. Silver Spring has "very fluid borders" and abuts three different jurisdictions, Elrich said. It is not uncommon for people to leave the District once the bars there have closed and then come to Silver Spring.
He said he intends to contact state officials to see how to enforce earlier closing hours.
Another possible reason that some types of crime were on the increase in Silver Spring is that it is more urbanized than the rest of the county, with more activities and more night life, Elrich said.