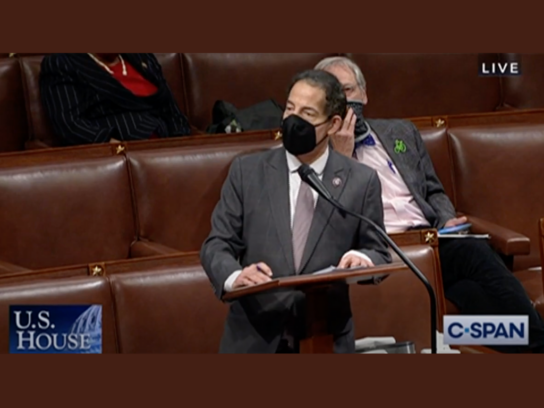 The House is expected to vote on legislation Tuesday from Rep. Jamie Raskin that calls on Vice President Mike Pence to invoke the 25th Amendment and strip Donald Trump of his presidential powers before his term ends Jan. 20.
House Majority Leader Steny Hoyer, D-Mechanicsville, attempted to pass Raskin's bill by unanimous consent Monday morning, but Republican Rep. Alex Mooney from West Virginia blocked the motion.
Raskin, a Montgomery County Democrat, said in a tweet Sunday that his resolution asks Pence to "mobilize the Cabinet to state the obvious — President Trump is unable to successfully discharge the duties of office."
If the vice president and the cabinet don't act, Speaker Nancy Pelosi said the House will introduce impeachment legislation.
Tomorrow we advance my Resolution calling on VP Pence to mobilize the Cabinet to state the obvious—President Trump is unable to successfully discharge the duties of office—and to immediately transfer powers to the VP under section 4 of the 25th Amendment. https://t.co/OTSsvvCxUk pic.twitter.com/6bAOTDgk4l

— Rep. Jamie Raskin (@RepRaskin) January 11, 2021
When the 25th Amendment request is passed by the Democratic-held body, Pelosi urges Pence to "respond within 24 hours," she said in a letter to colleagues Sunday night announcing this week's attempts to remove Trump.
Raskin — who serves on the House Judiciary Committee — also drafted the House Democrats' call for impeachment, alongside Reps. Ted Lieu of California and David Cicilline of Rhode Island. It was unveiled Monday and has over 200 Democratic co-signers.
The article accuses Trump of "incitement of insurrection" for last week's violent breach of the U.S. Capitol that was inflicted by a mob of his supporters.
It points to months of false election fraud claims, Trump's request that the Georgia secretary of state "find" enough votes to overturn the state's presidential election results and the president's speech last Wednesday ahead of the U.S. Capitol breach.
"In all of this, President Trump gravely endangered the security of the United States and its institutions of Government," the article says. "He threatened the integrity of the democratic system, interfered with the peaceful transition of power and imperiled a coequal branch of Government."
Unless Pence activates the 25th amendment, the House is poised to vote on the impeachment article later this week.