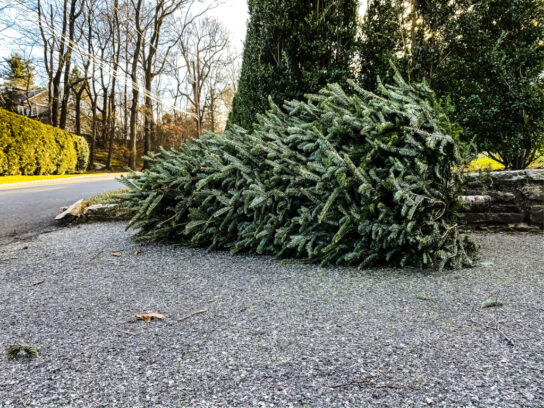 Many Montgomery County residents celebrate the holiday season with a live cut Christmas tree. With Christmas over, now is the time to recycle your tree.
Montgomery County's Department of Environmental Protection accepts Christmas trees throughout the year in the curbside yard trim collection. However, the department will not accept artificial trees or trees with root balls in the yard trim collection.
How to Recycle a Tree From a Single-Family Home or Townhouse
If you live in a single-family home or townhouse and a Montgomery County-provided trash service, here's how you can recycle your Christmas tree:
Bring your Christmas tree to the curb by 7 a.m. on your assigned recycling day.
Make sure you've removed all decorations, lights, tinsel, and garland from your tree.
If you have any branches or needles to recycle, place them under trees or shrubs in your yard to use temporarily as winter much (the Department of Environmental protection also recommends chopping them up for a compost pile).
How to Recycle a Tree From an Apartment or Condominium
If you live in an apartment or condominium, make sure you communicate with your property manager for specific instructions about how to dispose of your trees.
Property managers should have made arrangements with the Department of Environmental Protection to schedule special collections for Christmas trees.
How to Dispose of an Artificial Tree
Request a bulk trash pickup if you have a Montgomery County-provided trash service.
If you don't have a Montgomery County-provided trash service, contact your homeowner's association for instructions.
If your artificial tree is still usable, then consider posing it on Craigslist, Facebook, Freecycle, or other similar neighborhood lists.
How to Dispose of Wreaths and Roping
Separate greens in the wreath from the wire.
Bag and bundle the greens and the wire as yard trim.
Set them out on your recycling collection day, or throw away the wreaths and roping with your trash.