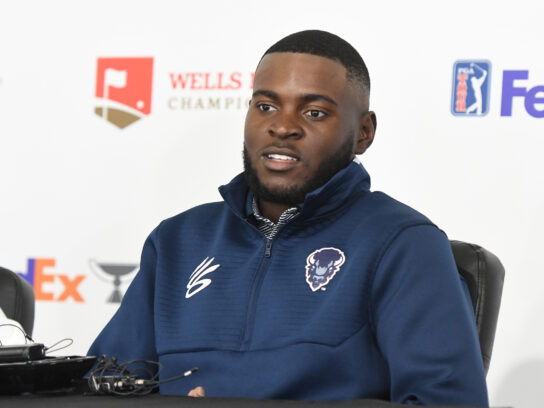 Gregory Odom, Jr., a senior at Howard University, will be playing in his first ever PGA Tour event this week at the Wells Fargo Championship at TPC Potomac at Avenel Farm.
Tournament officials announced today that Gregory Odom Jr., a senior standout on the Howard University Men's golf team, accepted a sponsor exemption to compete in the Wells Fargo Championship as the PGA TOUR returns to the DC area next month at TPC Potomac at Avenel Farm. pic.twitter.com/OcgSmifd91

— Howard Golf (@HUBison_Golf) April 19, 2022
Originally from Memphis, Odom, Jr. was extended a sponsor exemption by Wells Fargo and the tournament staff and will play as an amateur. He won the 2022 Mid-Eastern Athletic Conference (MEAC) Men's Golf Championship  last week at Argyle Country Club in Silver Spring, Md. Odom shot the low round of the championship, a 1-over 72, to finish atop the leaderboard at 12-over (76-77-72=225). He won the individual award by four shots and was named Outstanding Performer.
Up until 2019, Howard had never fielded a Division I golf program but in August 2019 NBA superstar Stephen Curry stepped in and announced that he would be funding men's and women's golf programs at the Washington D.C. school.
Really cool story: Howard University has never fielded a Division I golf team and hasn't a golf program of any sort in 40-some years. Now they do, thanks to mega-donation from Stephen Curry https://t.co/qssyqezxnf

— Rick Maese (@RickMaese) August 19, 2019
The Wells Fargo Championship, which is normally play in Charlotte, NC, begins on Thursday and will be televised by Golf Channel on Thursday and Friday from 2-6 pm, Golf Channel on Saturday and Sunday 1-3 pm and CBS 3-6 pm. Tickets are available at wellsfargochampionship.com.