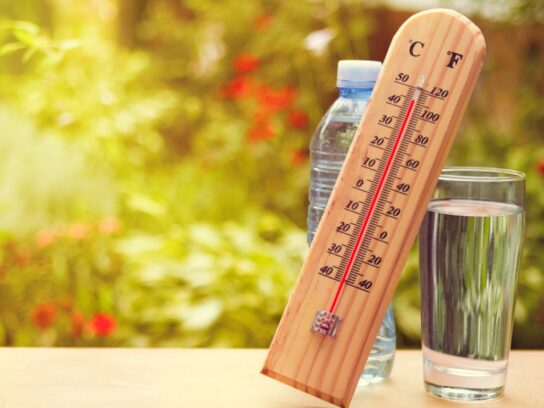 A hyperthermia alert for Thursday, Aug. 4, 2022, has been activated in Montgomery County due to expected extreme heat, per the Montgomery County Office of Emergency Management & Homeland Security (OEMHS).
Temperatures on Thursday are predicted to soar above 95 degrees Fahrenheit in Montgomery County. The National Weather Service put out an interactive alert that shows parts of Montgomery County and the District of Columbia could see a heat index as high as 106 degrees Fahrenheit.
The alert, effective from 11 a.m. through 8 p.m., means residents should take precautions to avoid overheating which could lead to illness.
Officials say summer storms could occur as a result of the extreme heat. High humidity levels could lead to heat exhaustion or heat-stroke if precautions are not taken. Symptoms of heat-related illness include: flushed skin, headache, shortness of breath, light headedness, nausea or vomiting.
Residents are encouraged to stay hydrated and check in on their elderly relatives and neighbors. Pet and child safety should be taken into account when facing a high heat index as well.
A heat emergency alert could still be issued for the county if the temperatures exceed 105 degrees Fahrenheit for a period of two days or longer. In the event of a heat emergency, all residents should avoid exposure to the heat for any extended period of time.
For more information, visit the heat alert page on Montgomery County's website.
Montgomery County has activated a Hyperthermia Alert for extreme heat for Thursday 8/4, 11am – 8pm. Expect the heat index to be above 95 degrees. Stay hydrated. Take precautions to protect yourself & pets from heat-related illnesses: https://t.co/76yOersH0Y #MoCo

— Montgomery Co OEMHS (@ReadyMontgomery) August 3, 2022