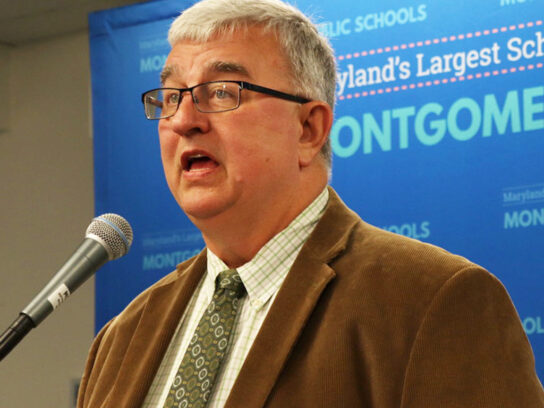 Montgomery County Public Schools (MCPS) officials expressed their disgust at a board meeting Monday toward recent allegations of sexual assault, harassment and racism made by current and former students.
"When I read things by our African American students at schools where they have had really negative experiences and I read a lot of them over the last couple of weeks, when I read the information from our students around sexual harassment and sexual assault, I feel sick," Superintendent Dr. Jack Smith said. 
Board of Education President Shebra Evans shared similar feelings. 
"We are enraged and saddened by all of these allegations. We hear you and I know that MCPS leadership hears you, too. We recognize the courage that it takes to publicly share painful and personal experiences of harassment, assault, bias and bullying. MCPS is actively looking into the allegations to address these reports as quickly as possible," she said.

Many sexual assault and harassment stories have been shared anonymously on Instagram, on accounts dedicated to sharing and spreading awareness about the ongoing sexual harassment and assaults of female students. Instagram accounts for schools that highlight sexual assault and harassment stories at MCPS include Blair, Bethesda-Chevy Chase, Churchill, Einstein, Wheaton, Whitman and Wootton high schools. 
Much of the board meeting was spent discussing back-to-school possibilities for this fall. Smith said COVID-19 is not the only thing MCPS needs to consider when thinking about what needs to change when restarting school. Officials need to think about these recent allegations of sexual assault and racism as well.
.@mocoboe is discussing the MCPS recovery of education plan. Tune in: https://t.co/SRr7P29vpa pic.twitter.com/SBVM6bWmmg

— MCPS (@MCPS) June 29, 2020
"When we talk about recovery, I would like to say that we want to move into a new way of doing our work, but we do not want to return to the parts of normal that were completely unacceptable. We must take advantage of this opportunity to move forward with a very different way of thinking and being," he said.
"We don't want to go back to some parts of normal. It's just not what we should do, need to do, and it doesn't benefit many of our students, especially our students of color."
Deputy Superintendent Dr. Monifa McKnight said MCPS is committed to helping students who are survivors of sexual misconduct.
"For people who are survivors of sexual harassment, misconduct in any way, the feelings and the impact of that goes far beyond the moment of the act. And so with that said, we are committed to continuing to focus on everything that needs to be done to address the needs of our students who have been impacted in a negative way so that you feel supported by your school system," she said.
The Montgomery County Police Department (MCPD) tweeted that police are working with MCPS to identify victims and asked victims to come forward to the MCPD so an investigation can be done.