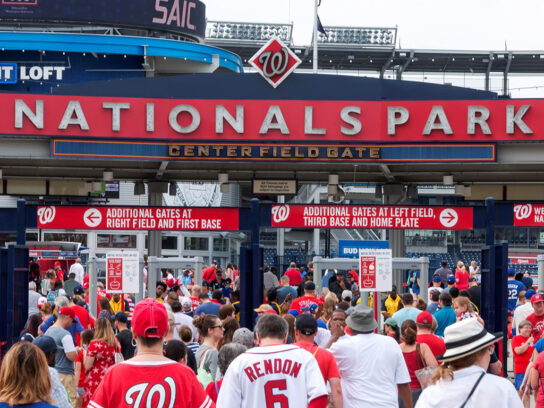 The World Series is back in Washington D.C. for the first time in 86 years. 40,000 plus people will be attending Game 3 tonight which is scheduled to start at 8:07 p.m. but there will be thousands of others in the vicinity of the ballpark at restaurants, bars or just hanging around. D.C. officials are encouraging fans to not drive into the city for the game. Here are some alternative options for you to get to the game.
Metro
Nationals Park Metro stop is Navy Yard on the green line, but if you do not want to deal with the massive crowd, they're alternative stops as well.
Capitol South Metro is on the Blue, Silver and Orange lines and is only seven blocks and a 20 minute walk from Nationals Park.
Lastly, Waterfront on the Green line, the stop before Navy Yard, is also a good alternative to not have to deal with the large rush of people. The station is about seven blocks away and a 15 minute walk to the game.
The Metro closes at 1 a.m. on Fridays, but Metro has reported that the Navy Yard metro stop will be open 20 minutes after the final out and every person who is in line within that 20 minutes will be permitted to ride home, no matter the time. Fans should use the New Jersey Avenue entrance when leaving the game.
If you are interested in taking Metro bus, the 74 and P6 lines stop near the stadium as well.
Driving
If you do decide to drive, there will be major road closures near the stadium.
These roads will be restricted to local and event traffic starting at 3 p.m. to midnight:
Half Street Southeast between M and N streets Southeast.
Van Street Southeast between M and N streets Southeast (access to residential parking garages will be permitted).
N Street Southeast between First Street Southeast and New Jersey Avenue Southeast (access to parking lots will be permitted).
Potomac Avenue Southeast from First to South Capitol streets Southeast
These roads will be closed to all vehicles starting at 3 p.m. to midnight:
Half Street Southeast between M and N streets Southeast.
N Street Southeast between Nationals Park GEICO parking garage (Van Street Southeast) and First Street Southeast.
N Place Southeast.
Taxi and ride-share
There will be temporary taxi stands at M Street Southeast between New Jersey Avenue Southeast and South Capitol Street Southeast.
For ride-sharing services, patrons should use the pick-up and drop-off zones on K and L Streets Southeast.
Remember to consider the surge pricing when using ride sharing apps. Prices go up for big events like this.
Bikes and scooters
Nationals Park has a free bike valet in Garage C that accepts bikes two hours before the game and closes one hour after the first out. Garage C is located at N and First Streets Southeast.
Dockless bikes and scooter corrals will be available at First Street Southeast and M Street Southeast, the 1100 block of First Street Southeast, the 1200 block of New Jersey Avenue Southeast and the corner of Tingey Street Southeast and Third Street Southeast.
Capital Bikeshare will have a corral at First Street Southeast and N Street Southeast. These corrals will begin two hours before the first pitch and will stay open 30 minutes after the last out.
You can find all transportation information for the World Series in this flyer sent out by the Government of D.C.
Remember to set up a meeting location for all members of your group in case you lose each other. Phone service is not always reliable with such a large influx of people in one location. Have fun and LET'S GO NATS!