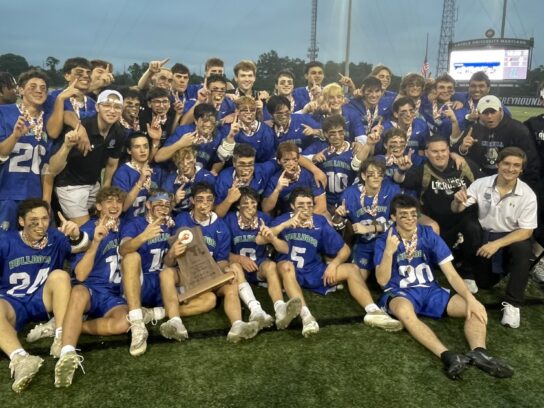 Loyola University in Baltimore was the place to be Thursday evening for Montgomery County lacrosse fans. The Churchill boys' and girls' teams were both trying to make history in the lacrosse state final doubleheader.
Churchill beat Broadneck 15-7 to win the 4A state title. The Bulldogs became the first ever team ever from Montgomery County (boys or girls) to win a state title in lacrosse.
Your 2022 4A State Champions! @ChurchillLax pic.twitter.com/yY7OlmXIq0

— MoCo MD Lacrosse (@MocoMDBoysLacro) May 26, 2022
One for the history books .. @DawgsSports become the first ever @MCPSAthletics team to win a Lacrosse State Title! #WeRAISE pic.twitter.com/5m297kh1M4

— MCPS Athletics (@MCPSAthletics) May 26, 2022
No words! pic.twitter.com/h1mRKBOUcF

— Winston Churchill Athletics (@DawgsSports) May 26, 2022
In the second game, the Bethesda-Chevy Chase girls lost to Broadneck 17-4 in the 4A state finals.
Here are your 2022 4A State Finalists! pic.twitter.com/Yw2izXXuTb

— B-CC Athletics (@BCC_Barons) May 27, 2022
(Featured photo courtesy MCPS Athletics)