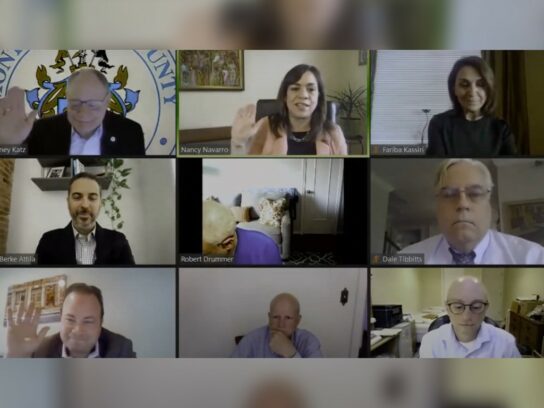 The Montgomery County Council's Government Operations and Fiscal Policy (GO) committee recommended approval of a bill that would prohibit the county's Chief Administrative Officer (CAO) from outside employment.
This would be the only county employee held to this rule, said County Council Senior Legislative Attorney Robert Drummer during Monday's committee meeting.
The recommendation is related to a county controversy over the summer: former CAO Andrew Kleine was found to have violated county ethics when he promoted his book and maintained relationships with two businesses while serving as a county employee.  In July, councilmembers were highly displeased that Kleine's only repercussion before his resignation was a $5,000 fine. He resigned Aug. 12 and on Sept. 29 the council voted to make Rich Madaleno the CAO. He was the director of the office of management and budget.
"Some incidents, particularly in the last months, have exposed areas that we need to address," Committee Chair Nancy Navarro said. "And while we cannot undo the past, we can take steps to strengthen our county's ethics law and create a robust framework, which protects taxpayers' money from bad actors."
… someone is let go for misconduct, taxpayers are not spending money on extravagant severance packages, not required by County law.

— Nancy Navarro (@nancy_navarro) November 23, 2020
"The rationale [behind the bill] would be that the Chief Administrative Officer is, in fact, the highest paid employee in the county and is in charge of the day-to-day operations of the county," Drummer said. The CAO "must set an example of the highest ethics and integrity for all County employees," says a memo from Drummer to the committee.
Bill 42-20 would also modify the definition of "outside employment" for other county employees to include intellectual property, like a book.
Committee member Andrew Friedson, who spearheaded the bill, said Chief Administrative Officer is a unique role.
"I don't think that you can be the CAO and go to a conference and be something other than the CAO for Montgomery County government," he said. He appreciated that Madaleno said he won't take outside employment. Committee Member and Council President Sidney Katz said Monday's meeting was a necessary conversation and agreed with the legislation. It includes other accountability and transparency measures.
On Monday, the GO committee also voted to recommend a related bill: 43-20, which would prohibit any severance pay for county employees found having made ethics violations within 12 months prior to exiting their roles. This measure relates to Kleine, too, Drummer said. The bill would also prohibit undisclosed severance pay to a county employee unless authorized by law.
Good news for our bills to prevent County leaders from using their public positions for private gain and to end the use of taxpayer dollars for unregulated, undisclosed discretionary severance pay. @MoCoCouncilMD GO Committee recommended approval of both bills. #PACTAct pic.twitter.com/6HCK74CJt6

— Councilmember Andrew Friedson (@Andrew_Friedson) November 23, 2020