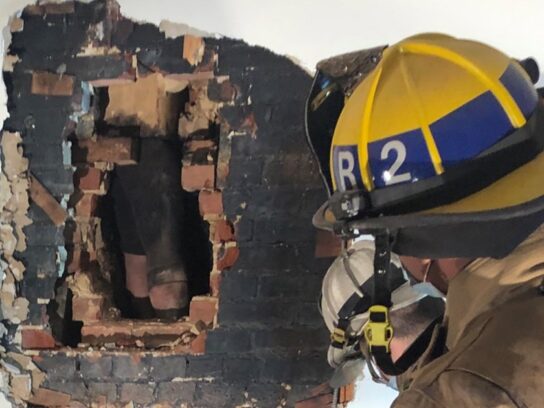 It took members of the Montgomery County Fire and Rescue Service about 90 minutes to remove a man stuck in a chimney during the early morning hours of Jan. 8.
Residents of a home on the 9000 block of Dameron Drive by Forest Glen Road in Silver Spring, across the street from Holy Cross Hospital,  heard a pounding or knocking sound inside their home at 3 a.m. and called Montgomery County Police.
Police officers searched the home, both inside and outside, but didn't find anything.
The residents called the police again at 5:30  a.m. when they heard more noises inside. This time, police heard a voice coming from the chimney, and the residents had told police they heard moaning also.
When fire and rescue workers arrived, they climbed to the roof and looked into the chimney with cameras. That's when they saw a person, according to Pete Piringer, spokesperson for MCF&R.
The home occupants did not recognize the intruder. "They didn't appear to know him," Piringer said.
"The guy was stuck. He was wedged in there pretty good," Piringer said, adding that he was stuck a couple of feet above the mantle.
The man was extricated after removing much of the wall. He was taken to the hospital and appeared to be suffering from hypothermia, Piringer said.
Police believe the man was trapped inside the chimney for at least four hours.
The investigation continues and charges may be pending against the suspect, police told MyMCM.
Update – Dameron Dr, Silver Spring, extrication in process, man stuck in chimney, @MontgomeryCoMD https://t.co/AE6WyMwFLK pic.twitter.com/IQPAMH1riA

— Pete Piringer (@mcfrsPIO) January 8, 2022
ICYMI (1/7) Dameron Dr (~6a), after being stuck/wedged in chimney, 1 person was extricated by @mcfrs rescue crews ~730a https://t.co/AE6WyMwFLK pic.twitter.com/rB4VXbWvw2

— Pete Piringer (@mcfrsPIO) January 8, 2022