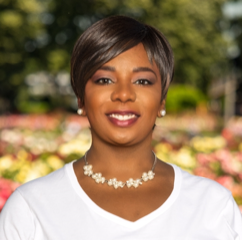 Montgomery Community Media (MCM) has named Jasmine N. White its new CEO. White
served as the Executive Director of Capital Community Media
in Salem OR,
 where she led a successful organization restructure and created their first fund development strategy. 
She
 previously worked for
 Montgomery Community Media 
as the Director of Education and Community Engagement, 
and DCTV
, 
where she 
managed
P
roduction Services, Creative Services
 and 
DCTV's 
Youth Training Institu
te
.  She 
spearheaded
 both organization's media education programs, 
and managed membership and outreach initiative
s
.
As an independent produc
er, 
she
 has created content
 about food injustices, voting rights 
and social justice
programming
. 
"MCM is where I discovered the joy of community media, where no two days are alike, the cast of characters are fascinating, and the work we do is extremely rewarding. We actually get to make a difference in our community. Leading a community media center is absolutely my dream job. Doing it at MCM just feels like me returning home; a true full circle moment."


White will be succeeding Nannette Hobson, MCM's CEO since 2018, who is retiring. Hobson said 
"Jasmine White is the perfect leader for MCM's future.  She is a level-headed, charismatic leader with a deep understanding of, and commitment to, providing media access to everyone, 
especially underserved communities.  Jasmine has a proven track record for making a difference in community media organizations where she's had leadership roles.  As I step back
 from this position and into retirement, I'm thrilled to turn over the reigns to such a talented and qualified leader."
"The board of MCM met with a number of qualified candidates for the CEO position. Jasmine stood out as someone who possessed not only a great deal of production, media training, and nonprofit leadership experience but also had a very deep understanding of the critical role community media plays in Montgomery County," said Jeffrey Slavin, Board Chair of MCM.  "She has a vision for where she wants to take Montgomery Community Media, as the local county news, information, and education landscape continues to change, and I am excited to see what is next for MCM under her leadership."
White is a community media professional with 20 years of combined experience in 
managing 
multimedia productio
ns
 and teams,
leadership development
 and 
change management
.
She has worked with
 various school
 districts
, nonprofit 
organizations 
and government agencies
 in Washington DC, Maryland and Oregon to utilize media as a tool for civic engagement while enhancing participatory media and accessibility for all people.
 
White has devoted her entire professional career to protecting and promoting community media and is eager to build upon the strong steady leadership and history of Montgomery Community Media. She is excited about working with MCM's award-winning team to continue their success of delivering hyper-local news while keeping media accessible and exciting for the various communities of Montgomery County. 
 
White earned her undergraduate degree in Communications from Ramapo College of New Jersey and holds a Master of Film and Video degree from American University, as well as a Master of Public Administration degree from the University of the District of Columbia. She currently serves on the national board of directors of the Alliance for Community Media where she exercises her passion for good governance and focuses on issues of inclusion, equity, engagement and accessibility. Jasmine and her 13-year-old pug, Bella, will drive approximately 
3,000 miles
 across
 the
 country 
in early February 2023 
to rejoin the MCM family.