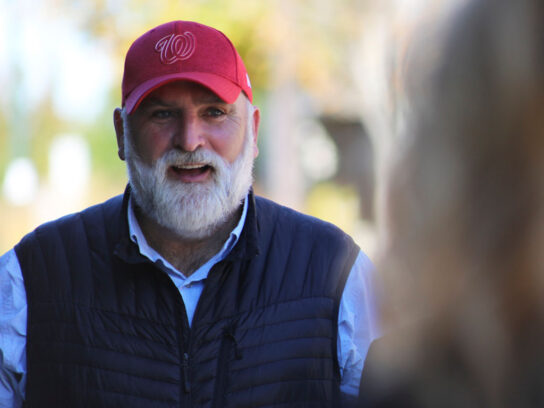 It's official: there is now a José Andrés holiday in Montgomery County.
During Andrés' visit to the Universities at Shady Grove (USG) in Rockville on Monday, County Executive Marc Elrich and Council President Nancy Navarro presented the world renowned chef with a proclamation declaring Oct. 28 as José Andrés Day in Montgomery County. The proclamation is intended to honor Andrés—a Bethesda resident who founded World Central Kitchen to offer food relief to people in need—for his humanitarian efforts.
Andrés' visited USG to discuss "Ingredients for Change" with Manna Food Center CEO Jackie DeCarlo. During the discussion, Andrés took questions from students about ways people can improve food relief efforts in Montgomery County.
Prior to the discussion, Andrés met with culinary students from University of Maryland Eastern Shore's Hospitality and Tourism Management program in the Marriott Teaching Kitchen. He also visited USG's Mobile Market, a monthly food distribution program that's supported by Capital Area Food Bank.
Here's a sample of the advice Andrés gave to students:
Andres also spoke to his reporters about what it was like to throw the first pitch at the World Series on Sunday night:
Photos of Andrés at Universities of Shady Grove
Social Media from Andrés's visit to Universities of Shady Grove
.@chefjoseandres received a warm welcome to the USG campus. He helped out at the Mobile Market and talked with UMES students. pic.twitter.com/GZCZ1mo9pg

— USG (@UatShadyGrove) October 28, 2019
@chefjoseandres has arrived at @UatShadyGrove to help distribute vegetables at the mobile market. @mymcmedia pic.twitter.com/L7ZBjwhGEw

— ashleypeccerelli (@ashleypecce) October 28, 2019
.@chefjoseandres handing out free fruits and vegtables to the community at USG Mobile Market. pic.twitter.com/oGijxiZndS

— USG (@UatShadyGrove) October 28, 2019
Community members of all ages are welcome at the USG Mobile Market and @chefjoseandres was more than happy to take time to talk to the youngest ones. pic.twitter.com/s4388Ftvaj

— USG (@UatShadyGrove) October 28, 2019
@chefjoseandres helps tie photographers shoelace. He is just like us. @mymcmedia pic.twitter.com/neQquQSzA2

— ashleypeccerelli (@ashleypecce) October 28, 2019
@chefjoseandres tries culinary students empanada and love his mother's recipe! @mymcmedia pic.twitter.com/9x4gqmnB9Z

— ashleypeccerelli (@ashleypecce) October 28, 2019
Out running between shoots today for @mymcmedia Busy and fun day! pic.twitter.com/Tv8Mhjv3sC

— J. Adam Wyatt Prod. (@jawprod) October 28, 2019
His first time playing baseball was the first pitch at the World Series and @chefjoseandres nailed it! #STAYINTHEFIGHT @Nationals @astros @MLB @mymcmedia pic.twitter.com/3LsNVCHV0f

— Carolyn Raskauskas (@CarolynRask) October 28, 2019
@chefjoseandres was well-received by the community at the Mobile Market and the UMES culinary students at @UatShadyGrove. @mymcmedia pic.twitter.com/dZUi59jRvg

— ashleypeccerelli (@ashleypecce) October 28, 2019
"One plate at a time, we can all dream of a better tomorrow" @chefjoseandres said in his speech about @WCKitchen at "Ingredients for Change" @UatShadyGrove. @mymcmedia pic.twitter.com/Hf8chF4C0s

— ashleypeccerelli (@ashleypecce) October 28, 2019
@Marc_Elrich and @nancy_navarro issued a proclamation recognizing @chefjoseandres for his contribution to the community. @mymcmedia pic.twitter.com/ih3px7lP9Y

— ashleypeccerelli (@ashleypecce) October 28, 2019
Thrilled and humbled to be joining world-renowned chef and humanitarian José Andrés today at @UatShadyGrove. Chef Andrés is a true inspiration to our community and a reminder of the value of immigrants in a country which was founded as a beacon of hope to people around the world. pic.twitter.com/DUtkK3PHnH

— Nancy Navarro (@nancy_navarro) October 28, 2019
Students from @UMESNews meeting @chefjoseandres. They were able to share some of their favorite recipes with him and listen to his inspiring story. pic.twitter.com/mzoSJjt0Tj

— USG (@UatShadyGrove) October 28, 2019
Montgomery County Executive @Marc_Elrich and Montgomery County Council President @nancy_navarro, proclaimed today, October 28, as @chefjoseandres day! pic.twitter.com/xTfvdyiweg

— USG (@UatShadyGrove) October 28, 2019
— Nancy Navarro (@nancy_navarro) October 28, 2019