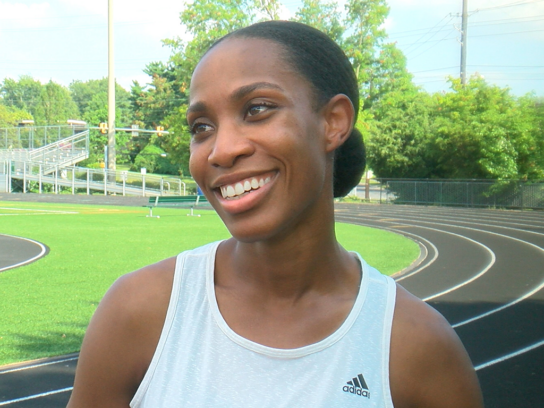 Thea LaFond waited five years for this opportunity. The Rio 2016 Olympic Games had been disappointing. She had injured her hamstring during training and finished last in the women's triple jump competition.
The John F. Kennedy High School graduate and teacher yearned for another chance to show her ability and prove she belonged among the world's best on the biggest stage. She started working with a new coach, overhauled her technique and, competing for her native Dominica, qualified for the Tokyo Olympics.
And when the triple jump competition began Friday, LaFond was up to the moment. She jumped a personal-record 14.6 meters on her opening attempt, the top mark in her qualifying group of 17 athletes, and advancing her to Sunday night's finals (7:15 a.m. ET Sunday).
One jump and she is done ✔. Former Kennedy High School athlete Thea LaFond set a new lifetime best 14.60m (47-10.75) to automatically advance to the Olympics triple jump final. pic.twitter.com/cifzYx7pTQ

— MoCoRunning (@Mocorunning) July 30, 2021
A jump of 14.4 meters was needed to automatically qualify for the finals, so LaFond passed on her two final attempts. LaFond's jump was the third-best among the two qualifying groups. The top 12 athletes in the two groups advanced to Sunday's finals.
Upon leaving the stadium and returning to her hotel, LaFond found her inbox overflowing with messages.
"I am so thankful for all the love and support," LaFond said in a message posted to her Instagram story. "I'll try to get back to everyone in the morning. Thank you from the bottom of my heart."
Thea Lafond 🇩🇲 with a HUGE personal best and national record 14.60m… in qualifying! She is into the final. She also improves on the 14.38 she did in 2019, and is just outside the world top 10 for 2021.#Tokyo2020 #Olympics #Athletics pic.twitter.com/GdBjTTGh09

— 🆃🅴🆁🆁🆈 🅵🅸🅽🅸🆂🆃🅴🆁🆁🅴 (@terryfinisterre) July 30, 2021
Related posts: